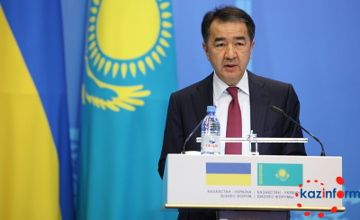 Speaking at today's Kazakh-Ukrainian business forum First Deputy Prime Minister of Kazakhstan Bakytzhan Sagintayev has designated areas with great potential for Kazakhstan-Ukraine cooperation.
First vice Prime Minister reminded that this year the republic has initiated major reforms in the field of exploration.

Bakytzhan Sagintayev told Ukrainian business persons that the next year Kazakhstan is completing the constructions of its section of the mega project "Western Europe - Western China". The new route will allow shippers to send goods even faster by land (10-day travel times from China to Europe) and at considerably lower cost, resulting in more businesses using the land route. A number of logistic terminals will be located along the new motor way. In addition, in the near future new terminals will be opened at the airports of Astana and Almaty. These airports have strong potential to become regional hubs in Central Asia for both passenger and air freight.

"Kazakhstan, having no access to the sea and enjoying the world's ninth territory, develops maritime infrastructure in neighboring countries. Thus, today our country has access to sea through its terminals in the ports of Lianyungang on China's east coast and Batumi - the Black Sea coast of Georgia. At present, negotiations are underway on opening our terminals in the ports of India, in southern Iran, the Persian Gulf," he said.

In addition, Mr. Sagintayev stressed that Kazakhstan is one of the few countries in the world with huge but not fully realized potential of agriculture industry.

"In this regard, today the Government is taking necessary measures to improve the investment climate in agriculture. For example, since the beginning of the year, we have extended leasing of agricultural land for foreign investors up to 25 years," he informed.

Other possible areas of cooperation are oil and gas, oil services, mechanical engineering, construction materials, information technology, and metallurgy. In turn, Kazakhstan is ready to implement projects in transport and logistics sector, uranium industry. The country is ready to explore the possibility of participating in the privatization in energy sector and ports of Ukraine.
Source: inform.kz
October 9 2015, 11:52