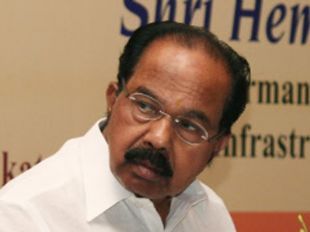 Indian Oil Minister M Veerappa Moily raised the issue of clearance to the deal Petroleum and Natural Gas Minister M Veerappa Moily on Wednesday urged Kazakhstan to support ONGC Videsh Ltd's move to buy equity in Kashagan oil field.
"OVL and ConocoPhilips have signed an agreement for purchase of the share of ConocoPhillips in Kashagan oil field. We hope that OVL's proposal to buy ConocoPhillips stake of 8.4 per cent in the Kashagan oil field would be favourably considered by consortium partners and the Government of Kazakhstan," Moily said while addressing the 10th meeting of the India-Kazakhstan Inter-Governmental Commission.
The Minister also highlighted the need to streamline shipping facilities between India and Kazakhstan.
Currently, most of the trade is taking place through European and Chinese ports because of the problems associated with transportation via Iranian ports.
"There are problems not only because of the sanctions by Western countries but also because of delays and excessive checking at the customs checkpoints on several borders during transit. The transportation route via China is also not convenient because of congestion at Chinese ports. We request for early convening of the JWG on transportation," Moily said.
Indiacompanies are also looking at setting up fertiliser units in Kazakhstan.
January 11 2013, 13:19