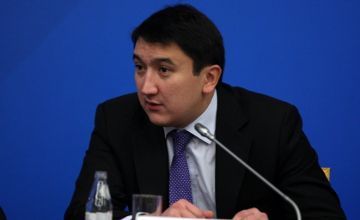 Explorations at depths of 7,000 to 15,000 meters can lead to discovery of over two dozen large hydrocarbon deposits in Kazakhstan, IA Novosti-Kazakhstan quoted Magzum Mirzagaliyev, the country's vice-minister of energy, as saying Oct. 7.

Speaking at the Kazakhstan International Oil & Gas Exhibition and Conference in Almaty, Mirzagaliyev said a decline of production is expected to take place in Kazakhstan in 15-20 years, including at the largest oil fields - Tengiz, Karachaganak and Kashagan.

He said the resource base can be filled in only through the exploration of much deeper horizons, where there is possibility of finding over two dozen large fields.

According to experts, as the vice-minister said, "the era of easy oil is in the past", and major oil and gas reserves are located at depths of 7,000 to 15,000 meters.

Mirzagaliyev recalled that earlier Kazakhstan announced the 'Eurasia' project, aimed at the exploration of hydrocarbons at great depths.

"The project will help bring large companies and maintain the production plateau in the long term at about 100 million tons yearly," he said.

Mirzagaliyev added that a draft of investment incentives and tax advantages for the project's participants is being developed today.

He further noted that a special operating company will be set up at Kazakhstan's national oil and gas company KazMunaiGas for the project's realization.

"It is planned to start working from 2016 on the collection and processing of data, and in 2017 to hold seismic surveys and then work to prepare the drilling of the deep well," he noted.
Source:trend.az
October 7 2015, 16:49