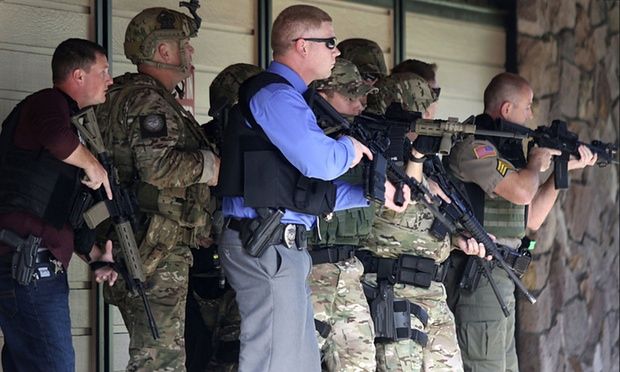 The US is reeling from another school shooting, the 45th this year, after a 26-year-old gunman murdered as many as nine people and wounded seven more at a community college in Oregon before he was killed.
The gunman was named as Chris Harper Mercer, a 26-year-old man who lived near Umpqua college in the rural town of Roseburg. He is thought to have been born in England before moving to the US as a young boy.
Investigators were focusing on reports from survivors that Mercer told students to state their religion before he opened fire.
The police were also looking at reports that hours before the attack he posted messages on an internet chat site warning people to stay away from school. Investigators said they were attempting to trace people on the site who discouraged him while others urged him on. It does not appear anyone reported the messages to the authorities before the shooting.
The gunman's father, Ian Mercer, said he was "just as shocked as everybody" at his son's actions. Speaking from his home in the US, he told reporters: "I've just been talking to the police and the FBI and all the details I have right now is what you guys [reporters] have already.
Hours after the killings, President Obama clearly agitated at making his 15th statement on shootings since taking office, said: "There's been another mass shooting in America" and spoke of the country being numbed by the repeated massacres.
Since Obama's reelection in November 2012 there have been 993 mass shooting events in the United States, not including Umpqua. Almost 300 of them have occurred in 2o15.
Mercer was cornered in a hall by a police officer who reported exchanging shots with the man. "Suspect is down," he told the 911 dispatcher. "He's not breathing, is in Snyder hall."
A couple minutes later, the officer told the dispatcher: "We've got multiple gunshot wounds. We're going to need multiple ambulances on scene."
Mercer had been living at an apartment complex in nearby Winchester. Yellow police tape surrounded the building on Thursday night.
A neighbour, Bronte Hart, said Mercer lived upstairs and would "sit by himself in the dark in the balcony with this little light". She said a woman she believed to be Mercer's mother also lived upstairs.
It was not clear whether Mercer had been a student at Umpqua college although a listing from a Noel Coward play that had been staged there had his name posted as an assistant with the production.
His stepsister, Carmen Nesnick, told CBS Los Angeles that he travelled to the US as a young boy. Other accounts report that Nesnick specified that Mercer was born in England.
Source: theguardian.com Photo 1: Police search students outside Umpqua Community College in Roseburg, following a deadly shooting at the southwestern Oregon community college. Photo 2: Chris Harper Mercer apparently demanded to know his victims' religious beliefs before opening fire at Umpqua Community College.
October 2 2015, 15:26