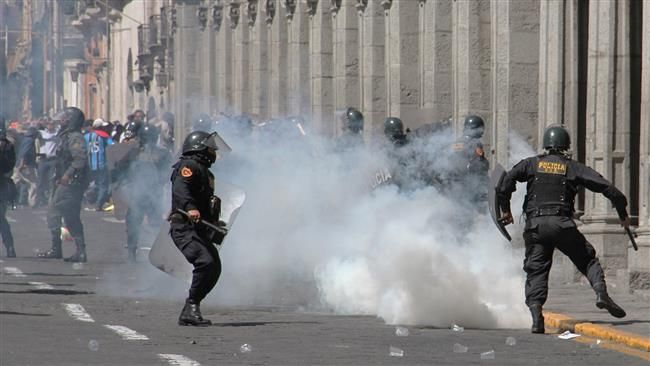 At least three people have been killed and several others injured in violent clashes between Peru's police forces and the farmers protesting a large copper mining project, which they say may lead to pollution in their lands.
On Tuesday, hundreds of protesters were out in the Apurimac area in southern Peru to express worries over possible pollution due to the planned expansion of the massive Las Bambas mine in the region.
However, police apparently opened fire on the protesters when they tried to enter the mine, where a plant is being constructed to separate copper ore from rock.
According to health officials, three people were shot dead, while three of the 17 others wounded are in critical condition.
"We are not against the Las Bambas mine as a whole. We have worked cooperatively with the mining people," said Henry Vasquez, a representative for the demonstrators.
He added, "What sparked the protests was that a mineral (residue) treatment plant, and a waste storage facility started to be built and no one had even discussed it with the local people."
The Las Bambas copper mine is the largest facility in the country, and is owned by a Chinese company. It is scheduled to start functioning in 2016 and produce 400,000 metric tons of copper the following year.
Mining accounts for 60 percent of Peru's exports, making the industry the country's biggest money earner. The South American country is the world's third largest copper producer.
Source: presstv.ir
September 30 2015, 10:45