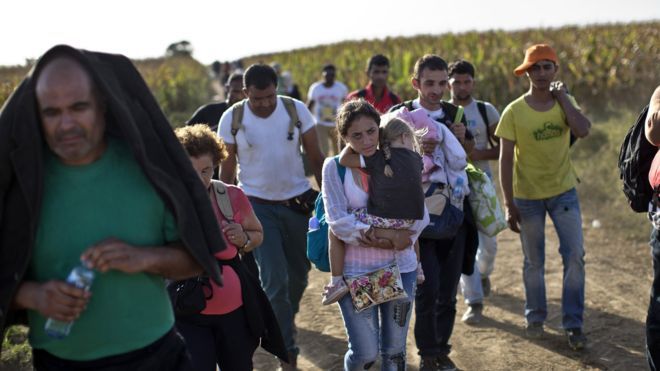 Migrants flooding into Croatia will be "moved on", PM Zoran Milanovic has warned, adding that his country cannot become a "migrant hotspot".
He said the country's borders would not be shut completely, but it had reached its limit.
His remarks came as Croatia closed seven of eight road crossings after a huge influx of migrants seeking onward passage towards northern Europe.
More than 14,000 have entered Croatia, with tensions high and many exhausted.
Huge numbers heading north through the Balkans have triggered an EU crisis.
Many are fleeing conflicts in Syria, Iraq and Afghanistan.
In other developments:
- Czech police and military are to conduct a joint drill along the country's borders to enhance co-operation in "crisis situations"
- A migrant thought to be Syrian is electrocuted at the entrance to the Eurotunnel in Calais
- The International Organisation for Migration says 473,000 migrants have crossed the Mediterranean to Europe this year, including more than 180,000 Syrians
- German Foreign Minister Frank-Walter Steinmeier says EU members reluctant to accept migrant quotas might have to be over-ruled with a majority vote at a summit on 23 September.
Refugees and migrants are making their way to the border in small groups. After arriving in Zagreb on trains and buses, they are catching taxis and some are walking towards the border, some 25km away.We met one extended Syrian family - about 30 or so - who walked across a quiet pedestrian border crossing in the village of Bregana.There were no police or other authorities in sight, they simply walked between two plant pots into Slovenia, waving and with smiles of relief on their faces.Shortly afterwards a police vehicle followed the group - and there are helicopters overhead - but no sign that the border is in any way secure.
Source: bbc
September 18 2015, 17:36