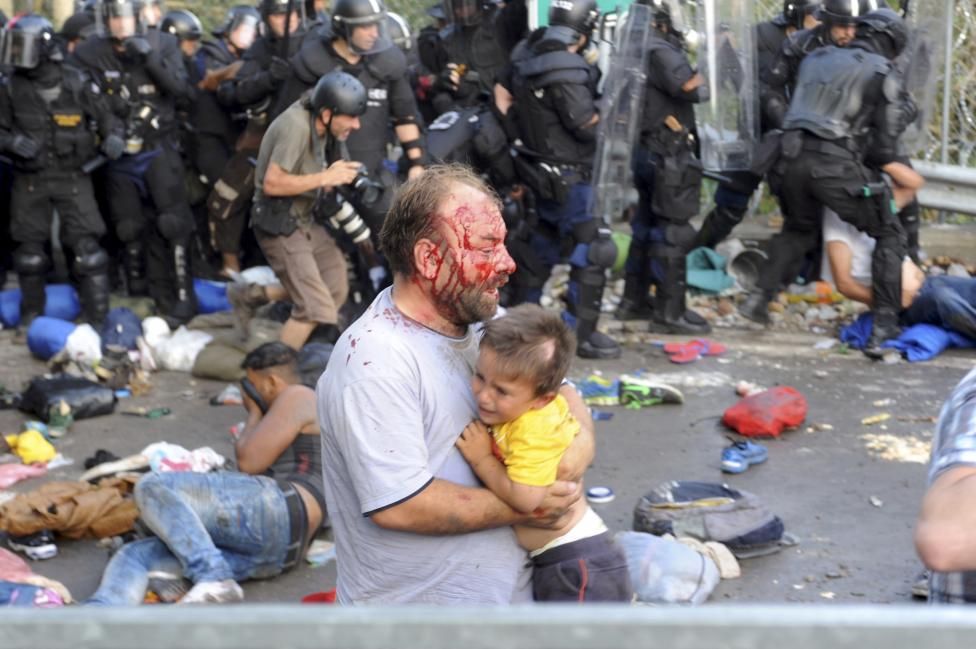 Hungary on Wednesday detained 29 people including a "terrorist" as migrants demanding to be let through the country's newly shut EU frontier clashed with riot police firing water cannon and tear gas while refugees searched for new ways to enter the bloc.
Hungary's decision this week to shut the EU's external border with Serbia was the most forceful attempt yet by a European country to reduce the flood of refugees and economic migrants overwhelming the bloc.
As thousands of migrants scattered across the Balkan peninsula tried to reach the EU, Hungary's prime minister said his country planned to put up a fence along parts of its border with Croatia and on the frontier with Romania to stem the flow.
Helmeted riot police backed by armored vehicles took up positions at the barricaded border crossing with Serbia, where male migrant youths pelted them with stones, demanding entry.
Hungary said it detained a "terrorist" among 29 migrants held during the clashes. At least 20 policemen and two children were injured, a Hungarian security official said.
"Police also captured an identified terrorist," Gyorgy Bakondi, a security adviser to Hungarian Prime Minister Viktor Orban, told state television M1. A government spokesman said the man was "in the database of security services".
"It is getting very ugly there," said Ahmad, 58, a shopkeeper from Baghdad who went to the official border crossing at Sid in Serbia but realized he may have a better chance of entering the EU via Serbia's border with Croatia.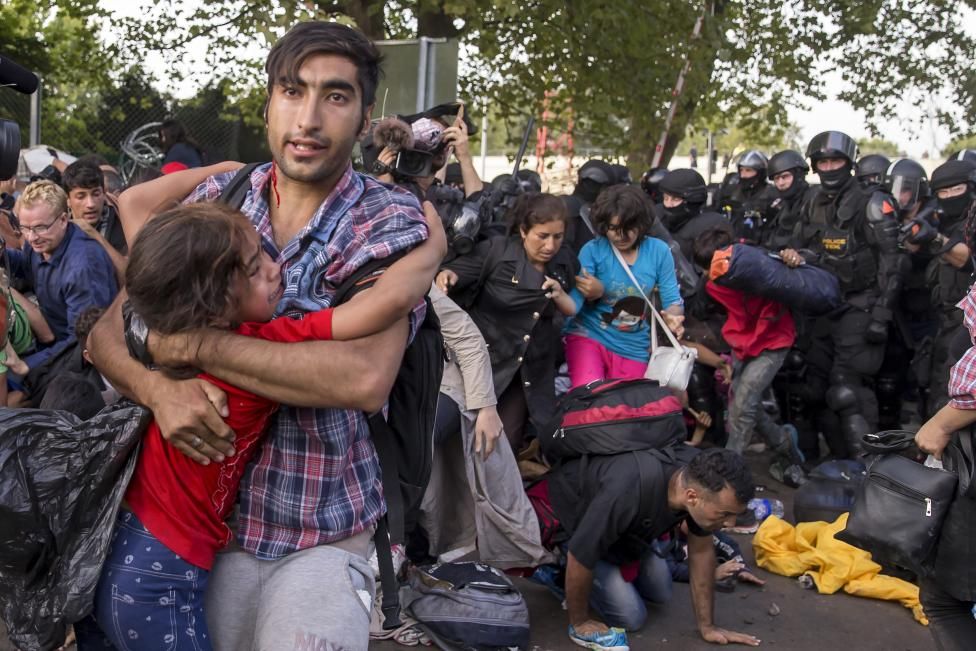 "As soon as we heard about a route to Croatia we did not wait long. I want to go to Sweden to meet the rest of my family. I hope we will be treated better in Croatia," he told Reuters.
Serbia's prime minister accused Hungary of "brutal" and "non-European" behavior and urged the EU to respond.
"I call on the European Union to react, for its members to behave in line with European values," Aleksandar Vucic told Serbian state television during a visit to the United States.
"If the EU does not react, we will find a way to protect our borders and European values as well," he said.
Serbia said it would send extra police to the border and try to distance migrants from the fence, as three Hungarian military Humvees mounted with guns stepped up security on the other side.
U.N. SHOCKED
U.N. Secretary-General Ban Ki-moon expressed shock and alarm at the treatment of refugees and migrants at Hungary's border with Serbia. The Council of Europe human rights body said it had asked Hungary to explain its new legislation on the crisis.
Antonio Guterres, the U.N. High Commissioner for Refugees, urged Hungarian authorities to ensure "unimpeded access" for people as they flee wars and persecution.
"UNHCR was especially shocked and saddened to witness Syrian refugees, including families with children who have already suffered so much, being prevented from entering the EU with water cannon and tear gas," it said in a statement.
Serbia's border with Hungary has until now been the main route for migrants, who come mostly by dinghy to Greece, then trek across the Balkan peninsula to reach the EU's frontier-free Schengen zone, most bound for Germany.
Migrants scattered through Balkan countries said they were seeking other routes, possibly through Croatia or Romania, which are in the EU though not in Schengen.
"If not Hungary, we will have to find another way. Most probably Croatia and from there we will see," said 43-year-old Mehmed from Damascus, holding his three-year-old daughter after crossing into Macedonia from Greece.
Croatia said it would send experts to its Serbian border to identify minefields from the Balkan wars of the 1990s, the last time hundreds of thousands of displaced people marched across Europe.
Source: reuters
September 17 2015, 12:59