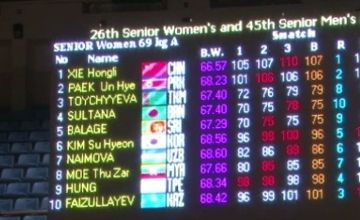 Kazakhstan wins big at Asian Weightlifting Championships in Thailand
Team Kazakhstan grabbed six medals - three gold and three bronze - at the 26th Senior Women's and 45th Senior Men's Asian Weightlifting Championships in Thailand.
Maira Faizullayeva was the last weightlifter from Kazakhstan to clinch bronze in Phuket. She lifted 226 kg - 101kg in snatch and 125kg in clean and jerk, edging out Wan Ting Hung from Taipei.

Chinese Hongli Xie hauled gold by lifting 247kg. Silver went to Un Hye Paek from the Democratic People's Republic of Korea.

Earlier it was reported that Yermek Omirtai, Aidar Kazov and Rustem Sybai lifted Team Kazakhstan to weightlifting gold in Men's 85kg, 77kg and 94kg category respectively.

Kazakhstani Faina Sivanbayeva and Assem Sadykova won bronze in Women's 63kg and 58kg category accordingly.

Phuket, Thailand hosted the championships from September 3 through 12, 2015.
Source:inform.kz
September 11 2015, 10:09