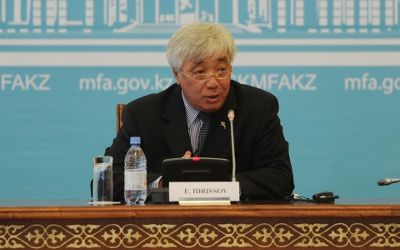 Presidents of Kazakhstan, Kyrgyzstan and Azerbaijan will meet in Astana, Minister of Foreign Affairs Erlan Idrissov said September 8 during the meeting with the representatives of the diplomatic corps accredited in Astana.

On September 11, Astana will host the meeting of the Turkic leaders - Presidents of Kazakhstan, Azerbaijan and Kyrgyzstan.
Turkish President Recep Tayyip Erdogan will not attend the meeting, but he sends his high-level representatives, said Idrissov. "Some countries' representatives are also to come to the meeting."
Kazakhstan celebrates the 550th anniversary of the Kazakh Khanate on September 11.
Celebrations with the participation of the heads of state and numerous foreign guests will be held that day in Astana.
There will be held a big international conference that will bring together scientists from around the world studying issues directly related to the Kazakh Khanate, said Idrissov.
Source: akipress
September 10 2015, 16:01