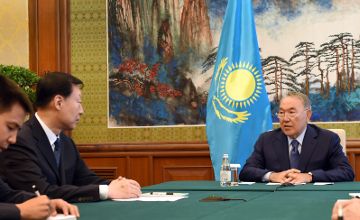 Today, within the official visit to China, Head of State Nursultan Nazarbayev has met with Chairman of the Standing Committee of Jiangsu Province NPC, KAZINFORM reports.
As the press office of Akorda informs, the parties focused on the prospects of extension of cargo flow through Kazakhstan's terminal at Lianyungang port.

"Kazakhstan attaches great importance to the cooperation with Jiangsu Province . In accordance with the agreement with the Chinese leadership, we are currently carrying out work at Lianyungang port. This is the first exit of Kazakhstan to the Pacific Ocean. I think, this is only the beginning of our cooperation," N.Nazarbayev said.

The issue of interaction in transport and logistics sector was also among priority ones at the meeting with Chairman of the People's Republic of China Xi Jinping and Premier of the Chinese State Council Li Keqiang, the President added.
Source/picture: KAZINFORM
September 2 2015, 12:00