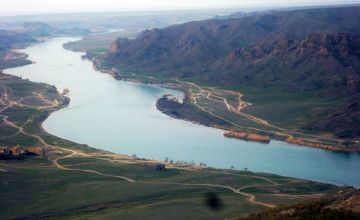 Kazakhstan and China have intensions to sign an agreement on apportioning of trans-border rivers, President of Kazakhstan Nursultan Nazarbayev announced at a press conference after meeting with Chinese business elite in Beijing on Tuesday, reports KAZINFORM.
"We have already agreed that the corresponding agreement on apportioning will be signed between the countries. Of course, given that Western China is developing rapidly, the agreement is well-timed. We have been assured that the document will be without prejudice to Kazakhstan," President Nazarbayev stressed.

Nursultan Nazarbayev had a meeting with his Chinese counterpart President Xi Jinping on Monday where the two leaders inked 12 bilateral documents. The same day the Kazakh President met with the leadership of three Chinese corporations CNPC, CITIC Group, Qingua as well.

In Beijing President Nazarbayev is also expected to attend grand military parade marking the 70th anniversary of Japan's defeat in World War II.
Source/picture: KAZINFORM
September 1 2015, 15:50