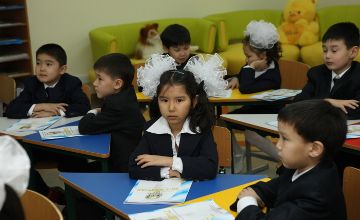 Almost 340,000 children have started school this year in Kazakhstan.
Celebratory events will be held today at all schools of the country. Each of the first-graders will receive a special gift from President Nursultan Nazarbayev - a book "Kazakhstan - My Motherland".

More than 7,500 schools will accept over 2 mln 600 thousand students in 2015-2016 academic year. As the Ministry of Education says, the number of first-grade students rises year by year.

New 150 schools are expected to be commissioned this year too.The number of wrecking facilities will decrease from 136 to 66, and this problem will be fully solved by 2017 yearend.

Noteworthy to say, that 436 thousand children will be provided with free hot meal this year, the Ministry says.
Text/picture: KAZINFORM
September 1 2015, 15:42