By Zulfiya Iskalieva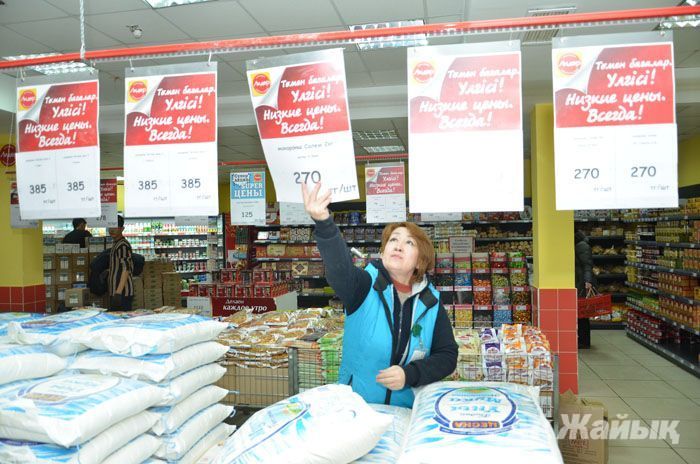 "As the head of the region I would request and task you not to play prices", - said Governor Baktykozha Izmukhambetov at today's meeting in regional government administration building addressing the representatives of supermarkets and big shopping centers.
In his opinion, current shifting of tenge to free float shouldn't significantly affect the cost of food in the region, since many food items are produced in Kazakhstan and in particular, in our region:
- Let it sound immodestly, but I am happy today that since my appointment in 2012 I was raising the issue of ensuring food security. We spent 22 billion tenge for agricultural industry. And now it is time to reap crop.
It is expected that investments made into agricultural complex will start returning back to the budget in the near future. It appeared that the region last year managed to secure itself with vegetables, edible greens, fruits and surplus products was sold in Russia. In two months the opening of quail farm is scheduled. In October commissioning work at wool processing unit will be started.

- During such situations prices shouldn't go up without any grounds. Not everybody in our society works in oil industry, and all are businessmen. There are pensioners, socially vulnerable segments of the population that receive targeted aid and housing benefits. At the request of the head of the state we are reconsidering their support. First thing in the morning I had a meeting and gave instructions to quickly do re-calculation. As of September all grants will be reconsidered.
We created work groups that would monitor the prices. They include the representatives of business, National bank, department of Agency on regulation of natural monopolies and some departments of government offices.
… Right after the meeting my colleague went to the nearest supermarket to buy goods for her kid. She paid for a pack of "Haggis" pampers – 1800 tenge (previous price - 1600 tenge), for a packet of children's dairy mix "Malysh" - 1237 tenge (yesterday the price was 1100).
Already on August 20, in Atyrau shops the prices of household appliances jumped up 30%. On August 19, one of our readers put onto a reserve a dishwashing machine that cost 121 thousand tenge, and on 21st she was told that the new price is 171 thousand.
August 21 2015, 16:44