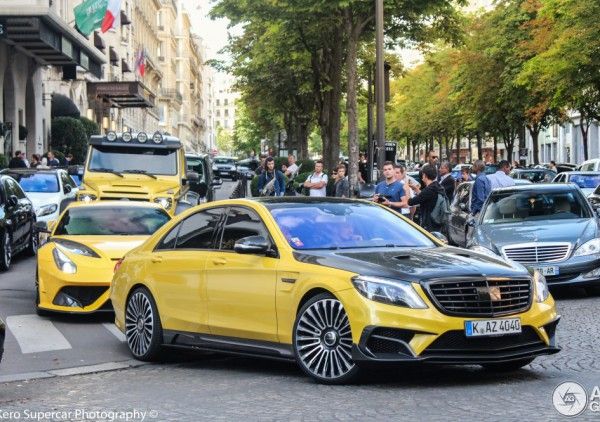 It looks like this super car owner is a big Mansory fanatic. He is the son of the Kazakh businessman Talgat Baitazeiv, former director of Atyrau refinery.
During his stay at hotel George V in Paris he brought three cars that were tuned by Mansory. This were a F12berlinetta, a S 63 AMG and a G 63 AMG 6x6. All three cars are painted in yellow with carbon fiber parts.
Let's start with the 6x6. When Mercedes introduced this beast everybody thought that they reached the limit but Mansory managed to make it even more bizarre. They made the engine produce 840 hp together with some exterial adjustments and carbon fiber components. This car is also painted in yellow just to make sure that you can not miss this car.

The Ferrari F12berlinetta is less big but not less outstanding. This car is also painted in yellow with carbon fiber components. Mansory made a lot of adjustments to this car. Other bumpers, a new hood, extra air intakes and so on. With 'only' 775 hp, Mansory is a bit more modest with this model but of course it's also way more easy to speed with the F12berlinetta.

Actually the 6x6 and the F12 are only for show because long rides from Düsseldorf to Paris and from Paris toCannes you will always prefer the S 63 AMG. A normal S-Class wouldn't look that good next to the other two cars and that's why he decided to tune the S-Class too. This model produces a stunning 998 hp.

This aren't the only cars that are driven by this owner, he also owns a Mansory SLS, a Mansory G 63 AMGand a Mansory Aventador. One thing's for sure, this owner really loves Mansory's products.
Source: autogesport.co.za
August 18 2015, 16:03