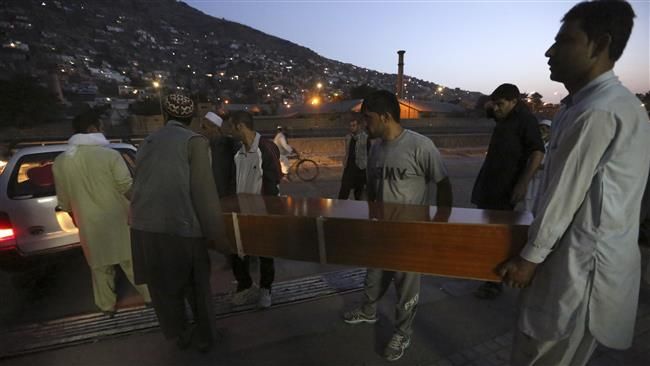 Security officials in Afghanistan say at least 10 people have been killed and more than 400 others sustained injuries when a massive explosion rocked the country's capital city of Kabul.
Kabul police chief, General Abdul Rahman Rahimi, said 10 people lost their lives and 400 others were injured when a car rigged with explosives went off at around 1 a.m. local time on Friday (2030 GMT Thursday).
Deputy Interior Minister for Security Affairs Mohammad Ayoub Salangi said the explosion took place near a government compound in the eastern Shah Shaheed district of Kabul.
Afghan Health Ministry spokesman Wahidullah Mayar said the injured were all civilians. Doctor Fida Mohammad in the emergency unit of Ibne Sina Hospital added that most of the injuries were caused by flying splinters of glass.
No group or individual has yet claimed responsibility for the deadly attack, but Taliban militants have been blamed for such attacks in the past.
Earlier on Thursday, Taliban spokesman, Zabihullah Mujahid, said a bomber driving an explosives-laden tanker, rammed the vehicle into the office of the army's rapid reaction force in the city of Pul-i-Alam, located 60 kilometers (37 miles) south of Kabul.
He claimed that nearly 100 people were killed and injured in the attack.
Afghan authorities, however, strongly dismissed the claim, saying the act of terror left six people dead and injured 10 others.
Afghanistan faces a security challenge years after the United States and its allies invaded the country in 2001 as part of Washington's so-called war on terror. The offensive removed the Taliban from power, but many areas in the country are still beset by insecurity.
Peace talks between the Afghan government and Taliban militants were effectively halted last week when the death of the militant group's leader, Mullah Omar, was confirmed and Mullah Akhtar Mohammad Mansour was appointed as his successor.
Some members of the Taliban, including Mullah Omar's son, Yaqub, and the former leader's brother, Mullah Abdul Manan, have voiced opposition to the appointment of Mansour and requested a new vote.
Under the current circumstances, the future of the peace talks under the group's new leadership remains difficult to predict. Thursday's Taliban attack is believed to further complicate the prospect of keeping peace talks alive.
Source: presstv.ir On photo: Afghans carry the dead body of a victim of a car bomb attack in Kabul, Afghanistan, Friday, Aug. 7, 2015. ©AP
August 7 2015, 15:33