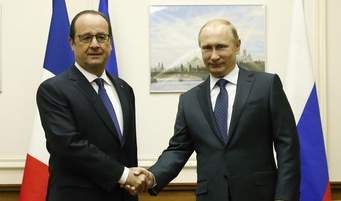 French President Francois Hollande agreed with his Russian counterpart Vladimir Putin on the terms of a compensation deal over two Mistral helicopter carriers which France had suspended due to the ongoing Ukrainian crisis, his office announced Wednesday.
Under the accord, Russia would be "fully reimbursed" for the two undelivered warships and France in return would have the "full ownership and free disposal of the two helicopter carriers," the Elysee said in a statement.
All Russian equipment installed on the ships will be removed and handed back to Moscow, it added.
Both leaders "agreed on the fact that now this matter is closed", according to the communique.
Paris would pay Moscow 1.2 billion euros (about 1.3 billion U. S. dollars) for refusing to deliver the two warships, initially scheduled for November 2014, due to worsening situation in Ukraine.
But the eurozone's second largest power, already dogged by a fragile growth, high budget deficit and alarming unemployment could face further challenges to put its finances in order due to the eventual billion of euros compensation claims. (1 euro = 1.09 U.S. dollars).
Source: AFP.com
August 6 2015, 17:27