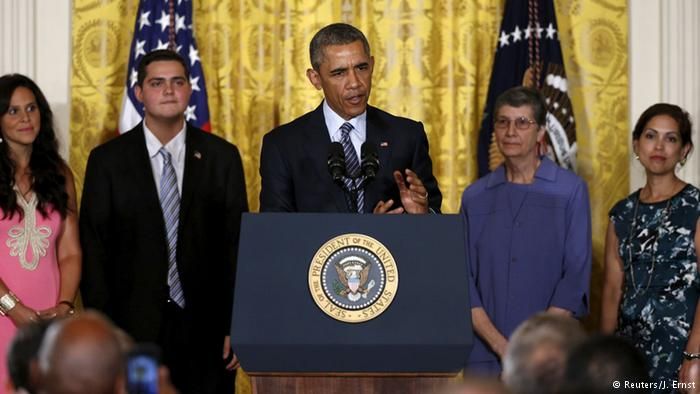 US President Barack Obama has unveiled a landmark decision to tackle climate change. Republicans were quick to criticize it, with some saying it would have "devastating consequences" for the US economy.

In a bid to combat climate change, US President Barack Obama announced the Clean Power Plan on Monday, marking the first time power plants have been targeted by mandatory regulations on carbon dioxide emissions in the US.
"No challenge poses a greater threat to…future generations than a changing climate," Obama said.
The mandatory measures force power plant owners to cut carbon dioxide emissions by 32 percent by 2030, compared to 2005 levels.
"There is such a thing as being too late when it comes to climate change," Obama said.
The US president said each state "will have the chance to put together its own plan for reducing emissions," adding that the ones that choose to do so sooner would be "rewarded."
"We're giving states the time and flexibility they need to cut pollution in a way that works for them," Obama said.
The announcement follows Obama's release of a video displaying the need for the US to do more to respond to the ever-growing issues brought on by climate change.
Meanwhile, Republicans and lobby groups were quick to criticize Obama's announcement of the regulations.
Republicans critical
Reince Priebus, chairman of the Republican National Committee, said Obama's plan would have "devastating consequences for our economy."
The lobby group American Coalition for Clean Coal Electricity said it could take action against the measures, saying Obama's administration was "pursuing an illegal plan that will drive up electricity costs and put people out of work."
Presidential contender Jeb Bush condemned the plan, saying "climate change will not be solved by grabbing power from states or slowly hollowing out our economy."
"The real challenge is how do we grow and prosper in order to foster more game-changing innovations and give us the resources we need to solve problems like this one," Bush said.
The move comes ahead of a UN climate change convention slated for the end of the year, when countries across the globe are expected to commit to a legally-binding framework to curb climate change.
Source: dw.com
August 4 2015, 09:45