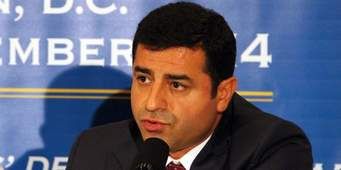 A "safe zone" Turkey and the US are creating in Syria is an attempt by Ankara to stop Kurds from forming their own territory, the leader of Turkey's pro-Kurdish party has told the BBC.
HDP chairman Selahattin Demirtas said Turkey's operation against Islamic State militants across the border was a cover to target PKK Kurdish rebels.
He urged both Turkey and the PKK to return to the peace process.
Ankara earlier said PKK attacks on Turkey made peace attempts impossible.
There has been a recent series of clashes between Turkish forces and the PKK (Kurdistan Workers' Party).
Turkey has also been hit by attacks by IS-linked militants - including one that left 32 dead in the border town of Suruc last week.
Turkey considers both the PKK and IS terrorist organisations.
Separately, the US earlier confirmed it was holding talks with Ankara about their joint military campaign against the IS in Syria.
State Department spokesman John Kirby said "more coalition effort and energy" would now be focused on the border area.
But he rejected suggestions that the US had sanctioned Turkey's air strike on Kurdish forces in northern Iraq.
Over the past week, analysts say, Turkey has turned its approach to the US-led coalition against IS on its head.
Previously a reluctant partner, it is now flying combat missions and making its airbases available to US jets.
Source: bbc On photo: Selahattin Demirtas says Turkey's battle against IS is simply a cover for operations against the PKK.
July 29 2015, 10:34