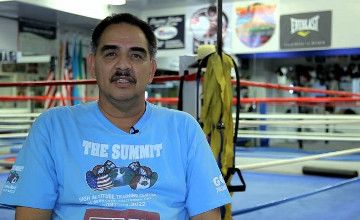 According to Abel Sanchez, trainer of WBA/IBO middleweight champion Gennady 'GGG' Golovkin (33-0, 30KOs), Erislandy Lara (21-2-2, 12KOs) has done absolutely nothing to deserve a shot at the fight against G. Golovkin, Sports.kz informs.
"When Tom came to me and offered Lara and Sergio Mora as possible next opponents, I answered him that I didn't want those fights. I said that before there was a talk with Gennady. First of all, Lara has not earned the right to fight Golovkin. I say that because he takes fights like Delvin, and Delvin is not a bad fighter but he doesn't belong to that level. Yes he won every round but he didn't do what he needed to do in order to be in the mix," Sanchez explained.
"As far as Mora, I don't think he's done enough either. Yes, he's fighting Jacobs, but he has that opportunity because they both have good relations with Al Haymon, that is all," he said.
"I think if you call yourself the best fighter in the world at 154-pounds, you should be able to prove that. The guys at the top like Gennady and Kovalev, and Wladimir (Klitschko) are knocking people out and giving the people what they pay for. Lara dos not do that," Sanchez added.
Source/picture: KAZINFORM
July 24 2015, 11:19