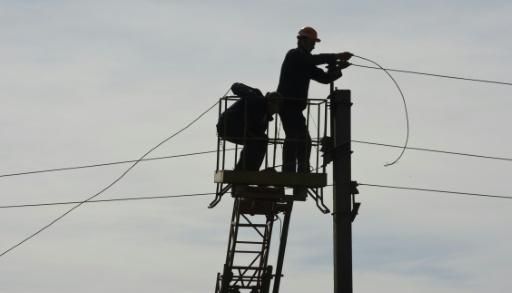 Kiev said Tuesday that Russia had cut off electricity to Ukraine's rebel-run regions in what appears to be another sign that Moscow is losing interest in plans to splinter its neighbour.
Russian President Vladimir Putin has gone through an extended spell without peppering his speeches with mentions of Novorossiya, the "New Russia" made up of Ukrainian lands that were once under tsarist control.
The veteran Kremlin leader had promoted the project repeatedly while the separatists were gaining ground along Ukraine's eastern industrial heartland toward the end of last year.
But Ukrainian insurgents who claimed to be in charge of re-creating a part of the old Russian empire had in recent weeks complained of a sudden lack of interest from the Kremlin and a dire shortage of funds.
Ukraine's Energy Minister Volodymyr Demchyshyn said Tuesday that energy-rich Russia had recently also stopped supplying electricity to the militia-run regions of Lugansk and Donetsk.
"We held fairly productive negotiations with the Russians," Interfax-Ukraine quoted Demchyshyn as telling an energy ministry meeting.
"We have been able to switch off four supply lines that ran from Russia to territories outside our control."
The energy minister said the thick cables supplied an allowance of $15 million (14 million euros) of power a month.
"That money was not being paid," Demchyshyn said.
There was no immediate response to his comments from Moscow.
Russia had earlier also promised to deliver free natural gas to Ukraine's rebel regions by building extensions and branches to existing pipelines.
It remains unclear where those plans stand today. Kiev officials believe the fighters may be smuggling in small supplies of gas through hastily-erected -- and considerably smaller -- pipes that cross parts of the Ukrainian-Russian border under their control
Demchyshyn's comments came ahead of a new round of negotiations Tuesday in the Belarussian capital Minsk aimed at ending a 15-month conflict that has claimed more than 6,500 lives.
The EU-mediated meeting will see Ukrainian President Petro Poroshenko's personal envoy speak to the Moscow-appointed negotiator in the presence of separatist representatives who are not formally part of the talks.
Source: afp.com
July 9 2015, 17:29