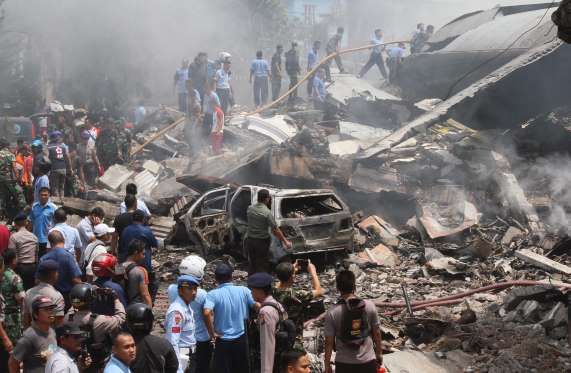 The death toll in the Tuesday crash of a military transport plane in Medan, Indonesia, has risen to 53, according to an Indonesian Red Cross official.
Three people were slightly injured, said the official, Zulkifli, who goes by only one name.
Earlier, Air Marshal Agus Supriatna told reporters that at least 49 bodies had been recovered. Twenty-three of the bodies had been identified, he said.
Supriatna said the C-130 Hercules took off from Jakarta's Halim Perdanakusuma Airport on Tuesday with about 113 people on board, but it's not clear how many people were on the plane when it crashed. It made two stops along the way -- in Pekanbaru and Dumai.
Smoke rose among scorched buildings in Medan after the plane crashed near a residential neighborhood.
Maj. Gen. Fuad Basya, an Indonesian military spokesman, said the aircraft went down with 12 military personnel on board shortly after taking off from a base in Medan, the capital of North Sumatra province. It was unclear whether that number was later thought to be incorrect, whether it referred only to some of the passengers, or whether there were casualties on the ground as well as on board the plane.
Local television broadcast images of crowds gathering around the smoldering wreckage of the plane amid damaged buildings and a charred car.
It was unclear what caused the disaster.
Basya said the aircraft, built in the United States in the 1960s, had been inspected and cleared to fly before it took off from Soewondo Air Force Base.
It was carrying logistical supplies for bases on other Indonesian islands.
The crash site is about 5 kilometers (3 miles) from the air base, he said.
Indonesia's national news agency Antara reported that the plane hit a busy road that connects Medan with the highland tourist resort of Brastagi.
Source: cnn.com
June 30 2015, 18:25