Minister of Foreign Affairs of Kazakhstan Erlan Idrissov met June 29 with Commissioner of U.S. Customs and Border Protection under the Department of Homeland Security Mr. Gil Kerlikowske.

Kerlikowske arrived in Astana leading the U.S. delegation to participate in the Central and South Asia Regional Conference on Countering Violent Extremism held on June 29.
During the meeting the sides discussed issues of bilateral cooperation in the field of combating and prevention of extremism and terrorism.
Idrissov noted that Kazakhstan is making significant efforts to combat extremism and terrorism. One such efforts was holding of the Congress of Leaders of World and Traditional Religions in Astana. "With the support of religious leaders around the world, we strive to act proactively and strategically to prevent the use of religion for incitement of violence and war," the minister said.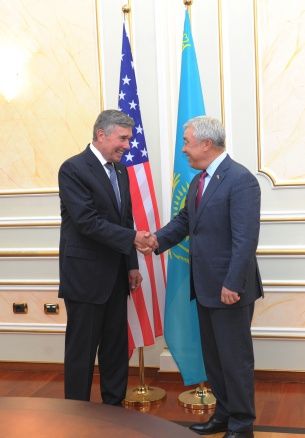 In turn, Mr. Kerlikowske stressed the importance of passing the Regional Conference in Astana that made it possible to share experiences and identify ways of cooperation within many countries in the region. According to him, the high level of participants speaks of the authority of Kazakhstan and the awareness of the seriousness of threat posed by extremists.
The sides discussed the issues of cooperation between Kazakhstan and the United States in combating extremism, as well as cooperation in the field of border security, transport infrastructure development.
Source: akipress.org
June 30 2015, 15:37