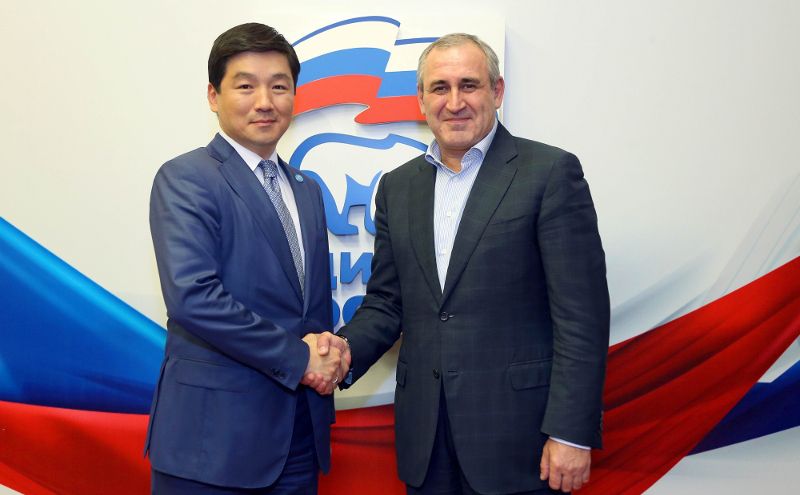 23 June a delegation of Nur Otan party headed by the first deputy chairman Bauyrzhan Baibek visited Moscow at the invitation of "Yedinaya Rossiya" party.
According to the press service of Nur Otan, during the meeting the leaders of the two parties have signed an agreement on cooperation.

On the first day of the visit first deputy chairman of Nur Otan Bauyrzhan Baibek met with the chairman of the State Duma of the Federal Assembly of the Russian Federation Sergey Naryshkin.

During the roundtable the parties noted that today Kazakhstan's Senate and the Federation Council of the Russian Federation, the Majilis and State Duma of Russia fruitfully cooperating within the framework of the meetings of the Interparliamentary Assembly of the CIS, the CSTO and the Parliamentary Assembly of the OSCE.

Delegation of Nur Otan party met with the Secretary of the General Council of "Yedinaya Rossiya", deputy chairman of Russian State Duma Sergei Neverov. The sides noted that dynamic development of inter-party and inter-parliamentary cooperation of the two countries will contribute to the strengthening of mutually beneficial collaboration between Kazakhstan and Russia.

During his visit to the Russian Federation, First Deputy Chairman of Nur Otan also held a meeting with the head of "Yedinaya Rossiya" parliamentary faction, deputy chairman of Russian State Duma Vladimir Vasiliev.

The same day the parties signed an agreement on cooperation between. The document was concluded on the basis and principles of independence, equality, mutual respect and non-interference in each other's affairs.

In conclusion, the sides agreed that in 2015 - 2016 the delegation of "Yedinaya Rossiya" political party will make a visit to the Republic of Kazakhstan.
Source: inform.kz
June 24 2015, 16:12