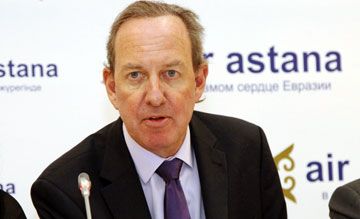 The heads of Air Astana Company will go to the USA next week to discuss the issue regarding launching a new flight connecting two cities - Astana and New York, President of the Company Peter Foster informed.

It should be noted that the task on opening a flight from Astana to New York was set by President Nursultan Nazarbayev in the National Plan "100 specific steps".
"In accordance with the implementation of the National Plan "100 steps", "Air Astana" will continue to open new flights to Dubai in winter, Hong Kong later this year and to Tokyo by the end of 2016. Besides, we plan to open a flight to Paris this year. In 2019, we will open flights to New York as soon as we get Boeing-787. It is too early to talk about the frequency of flights, but we plan to go to the USA next week to start negotiations with our partners in America," P. Foster said.
Besides, "Air Astana" company opened direct flights from Astana to Seoul and Tbilisi on June 2. The Astana-Tbilisi flight will be performed two times a week on Embraer-190. These two flights from Astana together with five flights from Almaty will make the flight connection between the two countries daily.
The Astana-Seoul flight will be held once a week on Boeing 767-300ER. This flight will be the forth flight a week from Kazakhstan to South Korea taking into account three flights to Seoul from Almaty.
In turn, the Extraordinary and Plenipotentiary Ambassador of South Korea to Kazakhstan emphasized that a flight from Seoul to Astana would also open in this August.
Source: inform.kz
June 2 2015, 17:34