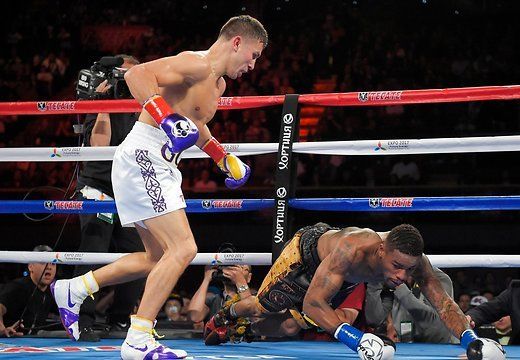 Gennady Golovkin of Kazakhstan has been called "the new Mike Tyson" in the media.
The world champion in WBA (Super), IBO and WBC (Interim) in middle weight 33-year-old Gennady Golovkin defended the titles in his duel with American Willie Monro Jr. The Kazakhstan boxer won a victory with technical knockout in the 6th round.
Fight took place in Inglewood (USA). In the 2nd round he sent 28y.o. rival to knock-down twice. In the 3d round Golovkin, though, missed some notable blows. In the 6th round the American capitulated after the next knock-down.
Golovkin continues to remain unbeaten on a professional ring, winning all 33 fights. After his victory over Monroe the native of Karaganda city (Kazakhstan) beat legendary American boxer Mike Tyson's record early victories. The knockout over Monroe became for Golovkin the 20th in a row, whereas Tyson won 19 times in a row.
Translated by Zeena Urynbassarova
Source: rus.delfi.ee
May 18 2015, 12:45