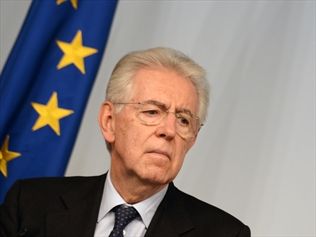 Italian PM Mario Monti (pic) is stepping down, the president's office has announced. Source: AAPITALY is gearing up for early elections after Prime Minister Mario Monti said he will resign in the coming days and Silvio Berlusconi announced he will run again for the sixth time in two decades.
"I have matured the conviction that we could not continue like this any longer," Monti was quoted as saying a day after his announcement in an interview with Ferruccio De Bortoli, editor of top daily Corriere della Sera.
Monti explained that he made his decision after MPs from Berlusconi's People of Freedom party withdrew their support for his government last week in a symbolic protest, saying Italy was now economically worse off than before.
Party chief Angelino Alfano told parliament that Italy's debt, unemployment and tax rates had risen while the economy had plunged ever since Monti took over from Berlusconi at the head of a non-elected cabinet in November 2011.
"I felt profoundly hurt by these words," Monti was quoted as saying on Sunday, adding that he wanted to make his announcement with "markets closed".
Monti also said he had noticed the "concern" of his interlocutors with Italy's political situation at an economic forum in Cannes on Saturday.
Investors have reacted nervously after the PDL abstained from two confidence votes in the government on Thursday, with the stock market plunging and the differential between the yields on Italian and German benchmark bonds widening.
In the latest in a series of closed-door talks held by President Giorgio Napolitano with political leaders, Monti on Saturday told the president he will be stepping down as soon as parliament approves next year's budget.
Monti "does not think it possible to continue his mandate and consequently made clear his intention to present his resignation", Napolitano's office said in a statement after the hour-long meeting on Saturday.
The budget is expected before the end of the year but is only one of several items pending before parliament, including key reforms, whose future is unclear.
Elections will have to be held within a minimum of 45 days and a maximum of 70 days, meaning a vote could come as early as February.
The current parliament's mandate runs out at the end of April.
Analysts said Monti's decision to speed up the election calendar could also be a way for him to prepare his own entry into politics after three-time prime minister Berlusconi announced his dramatic return on Saturday.
The irrepressible 76-year-old has said he is running, despite a fraud conviction earlier this year and an ongoing trial against him for having sex with an underage prostitute and abusing his powers when he was premier.
"I am running to win," he said on Saturday, after declaring in October that he would not run.
He added: "When I did sport, when I worked and studied, I never entered into a competition to be well-placed but always to win."
couriermail.com.au
December 22 2012, 15:13