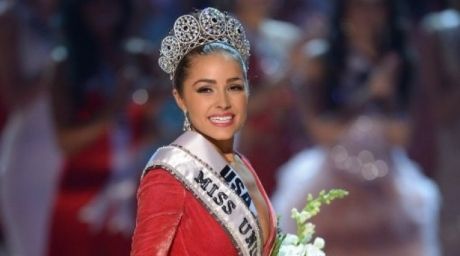 American Olivia Culpo was crowned Miss Universe 2012 late Wednesday, beating out beauties from around the world to claim the coveted title, AFP reports.
The title of first runner-up went to the contestant from the Philippines, Janine Tugonon.

Last year's winner Leila Lopes of Angola, crowned jubilant Culpo, 20 years old, to succeed her in a year-long reign.

It is the first win for an American woman since 1997, when the title was won by Brook Lee.

Miss Venezuela, Irene Sofia Esser Quintero, placed third in the contest. Fourth place went to Miss Australia Renae Ayris, and fifth to Miss Brazil, Gabriela Markus.

The title Miss Congeniality was given to Miss Guatemala Laura Godoy by the contestants.

The pageant, which purports to pick the world's most beautiful woman, was held this year in Las Vegas, and saw 89 contestants compete in three categories: swimsuit, evening gown and interview.

It marked the 61st edition of the pageant, held last year in Sao Paulo, Brazil, and which is co-sponsored by US television network NBC and American real estate mogul Donald Trump.


For more information see:http://en.tengrinews.kz/show_and_style/US-woman-crowned-Miss-Universe-2012--15378/
Use of the Tengrinews English materials must be accompanied by a hyperlink to en.Tengrinews.kz
December 20 2012, 20:33