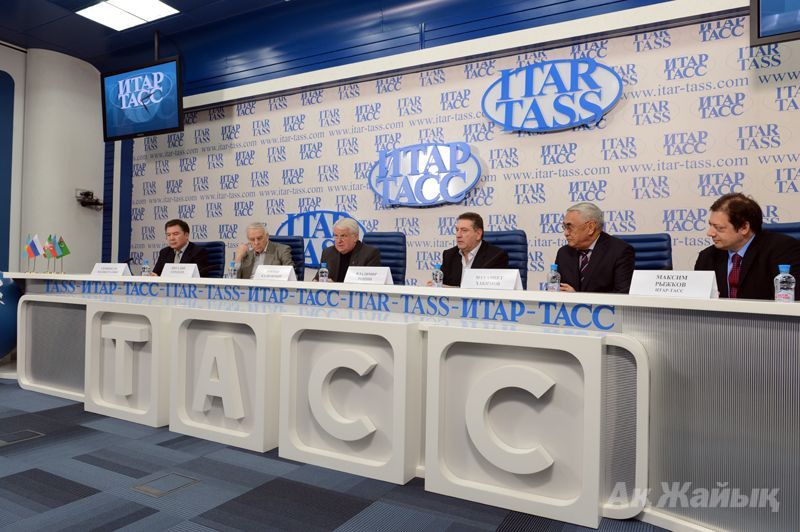 Famous politicians and public figures of Russia and Azerbaijan spoke aloud of risks related to Kashagan project, a few months before the start of oil production.
On December 4, at a press conference upon the end of the international contest organized by Russia's Save Caspian Sea Foundation in Moscow, participants failed to answer the main question – Is Caspian a sea of friendship or disputes?
Journalists from 5 Caspian states took part in the contest.
Svetlana Novak, from Kazakhstan's republican Karavan newspaper, was among the winners.
Besides, leader of Atyrau's Kaspi Tabigaty NGO Makhambet Khakimov and professor of Baku State University Chingiz Ismailov were given certificates of merit for significant personal contribution to environmental protection and ensuring environmental safety.
It's worth noting that today both Russian and Kazakh politicians highlighted the issues other experts discussed 10 years ago.
Given this, legal aspects of this unique sea are still unsolved up to this date.
Russia keeps insisting that safety and neutrality of the Caspian Sea may only be ensured under dominance of Russian navy.
Formal sources have many times notified of Russia's willingness to undertake safety for entire sea and its concerns about possible emergence of fleets under the auspices of the US in the Caspian.
At the press conference, Russia's ex minister of fuel and energy and ex delegate of Russia for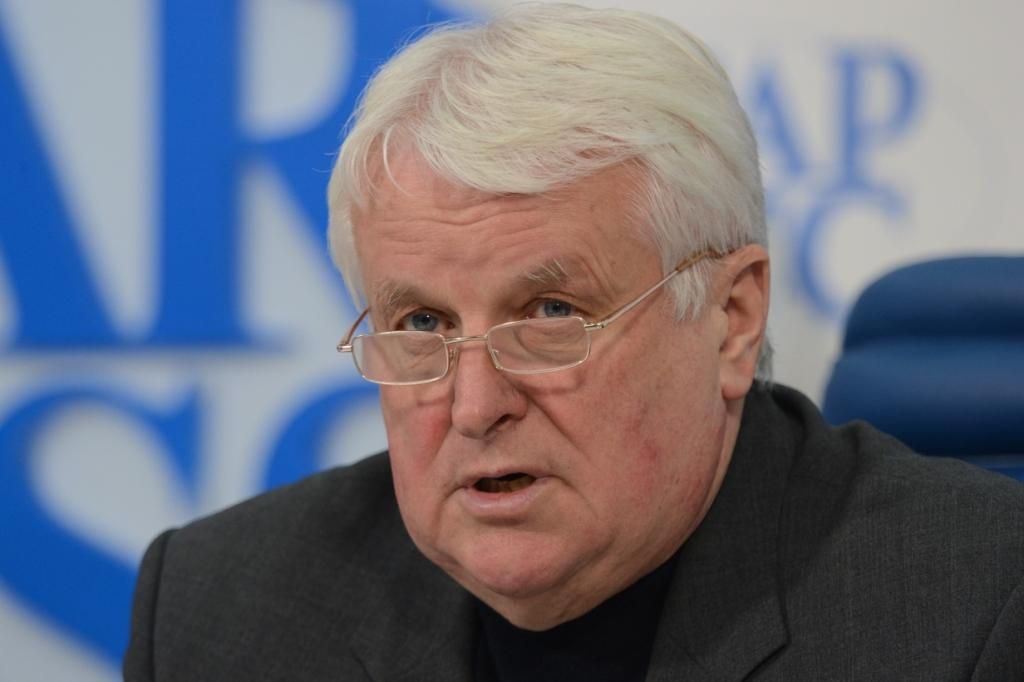 the Caspian Sea Viktor KALYUZHNIY (on photo) expressed distress over 'strengthening of fleets of some Caspian states.'
Apparently it wasn't Russia he had in mind.
He reminded of the North Caspian's wildlife reserve status – this part of the sea is the feed area of sturgeon:
"USSR knew there was a good oil and gas deposit. Owing to unique feature of this part of the sea and lack of cutting-the-edge technologies they refused to develop it. Today, we are concerned about Kazakhstan's intention to extract oil here, because the deposit's sulfur content is very high and this is very harmful to the environment. Mass death of swans and seals is the evidence. And true reason is still veiled."
In his opinion, 2003 Tehran Framework Convention and its 2011 Protocol need additional amendments to toughen environmental responsibility.
He also announced the forthcoming 'Caspian's Now and Future' conference to be held in January-February in Iran.
According to Kalyuzhniy Iran will organize a next unscheduled summit of Caspian states to discuss legal status of the sea.
It's interesting that an ex oilman Kalyuzhniy with some irritation responded to a proposal to legally put responsibility for environmental accidents on oil companies, like in the US.
He stated that the Mexican Gulf catastrophe costed BP $40bn and among companies working offshore today there is not a single one that can handle similar incidents.
"When a person comes to a new place with no idea what to do, the first thing he does is reorganization. That's why now everybody is busy with contracts and agreements. I requested legal department of Ministry of International Affairs to analyze separate Russian and Kazakh laws, as well as joint agreements. It turned out all of them matched international standards – there is not a single mistake. But the problem is they do not work. One can't help sturgeon with these papers!"
Also, Mr Kalyuzhniy questioned the technology and materials used in construction of man-made islands at Kashagan:
"The depth there is just 4m with 15cm of sludge on which sturgeon travels. I would once more thoroughly check the base of the islands – I am sure there is something one could find."
In the end of his speech he remembered political correctness and claimed he doesn't aim to stop field development – he said there are new technologies, in particular, horizontal drilling that allows oil production without 'touching the Caspian water.'
Makhambet Khakimov, a member expert of Save Caspian Sea Foundation who unsuccessfully had proposed to create a similar foundation in Kazakhstan long ago, complained about double standard work of Greenpeace.
He says he received nothing but assurances in eternal friendship from representatives of the organization in Moscow.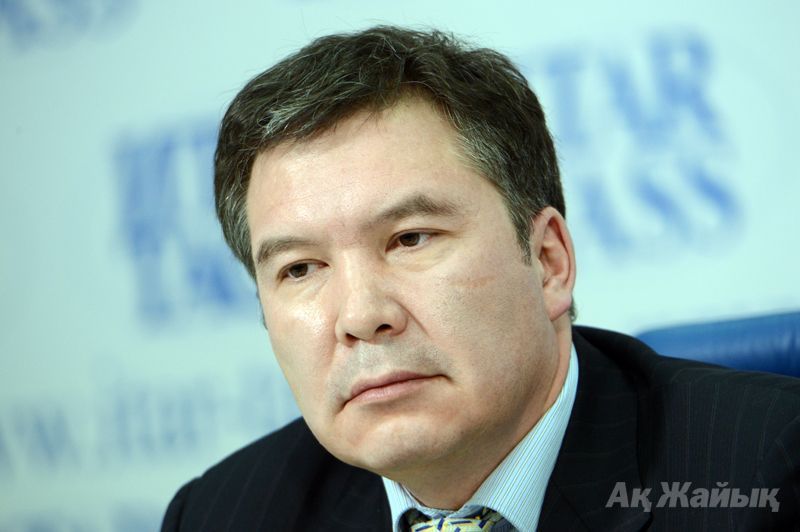 The other expert, a Kazakh politician in exile Serikzhan Mambetalin (on photo) told that his foreign friends (he now lives in London) were shocked when they heard that someone was going to produce oil in wildlife sanctuary:
"We are now witnesses how power is putting its short term interests above long term ones. 90% of world sturgeon is in the Caspian Sea. After open production they are fated to death."
Russian public figure Geydar Dzhemal also sharply spoke out about double standard policy in Western companies:
"In their home countries they observe all the laws using advanced green technologies, but in post-Soviet countries they forget that. They work under principles of neocolonialism. The greatest thing they fear is that international community would learn of their dirty operations. If world learns, they will have serious problems. They still do not want to invest money in new technologies. For them, it's more simple to dump limestone under the islands, which will dissolve and cover the bottom with crust, leaving nothing to eat for sturgeon."
After the press conference I put several questions to Mr Kalyuzhniy:
- You spoke of hydrocarbon poisoning of animals. Where was that leakage?
- There was one at Tengiz in mid 2000s. But investigation was softpedaled. I have long worked in oil industry, in Siberia, where oil spills happen very often. I reiterate that main hazard for fish will come from hydrogen sulfide, not oil spills. You can catch oil, but not gas.
- KazNet is peppered with hot discussions of a suggestion to give Kashagan to Russia that Russian president Boris Yeltsin said to Kazakh president Nazarbayev. Today, at the conference, open criticism was voiced to the address of the project: is Russia's participation in Kashagan relevant today?
- No, from the very beginning Russia has been showing no interest in Kashagan. To my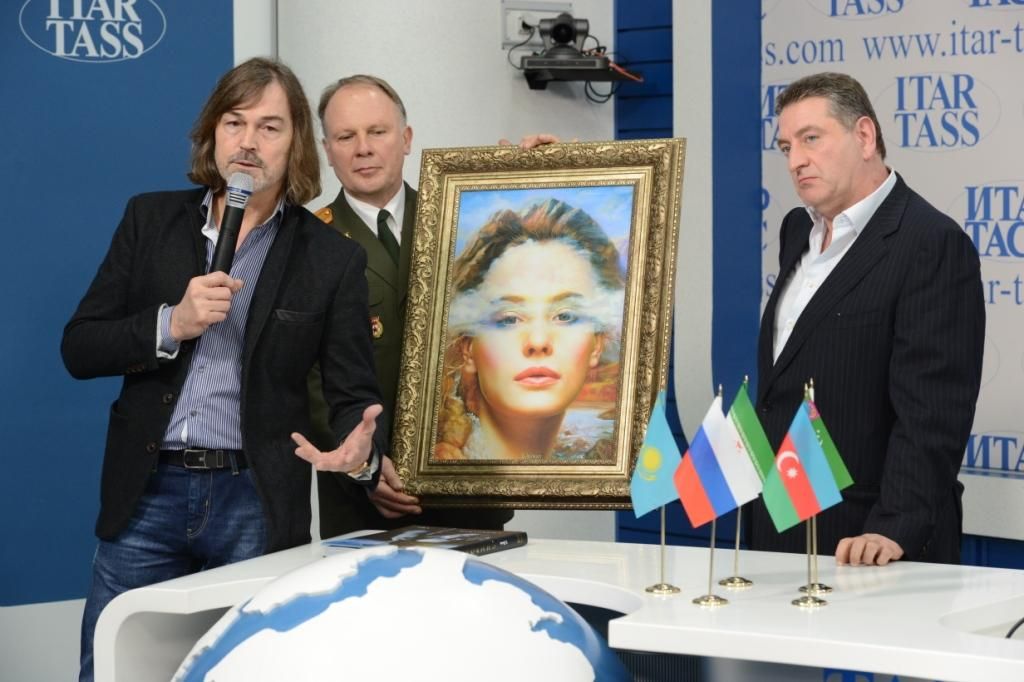 knowledge, Russia was interested in Kurmangazy field, but not Kashagan. This is a very challenging project, therefore Russia didn't come up as a competitor.
Glamorous Russian painter Nikas Safronov (in jeans on photo) donated a painting to the foundation.
"Other representatives of show business should contribute to saving of the Caspian Sea as well," he said.
By Laura SULEIMENOVA
December 20 2012, 14:39