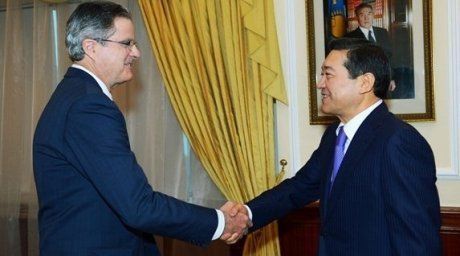 Kazakh Prime Minister Serik Akhmetov has received Chief Executive Officer and Chairman of the Board of "Chevron" Corporation John S. Watson Thursday, Kazakhstan PM's press service reports.
During the meeting the sides discussed prospects of expanding the bilateral cooperation.
"We are closely watching Chevron activities in Kazakhstan and we know well the corporation's long-term projects. In general, the Kazakh government, through the Ministry of Oil and Gas supports your activity in our country," said S. Ahmetov.
In turn, J. Watson said he was proud of the history of Chevron in Kazakhstan, as for 20 years of productive cooperation the management of the company formed a partnership with the Government. Watson also informed Ahmetov about the projects on development of Kazakh fields and prospects of Chevron activity in Kazakhstan.
Chevron works on two largest Kazakh oil fields Karachaganak and Tengiz.
Tengiz field, opened in 1979 in the west of Kazakhstan, is one of the deepest and largest oil fields in the world. Total estimated reserves of Tengiz field are 3 billion tons (26 billion barrels).

Tengiz field is operated by Tengizchevroil consortium (TCO), a joint venture established in April 1993 based on an agreement signed between the Kazakh government and Chevron. Tengizchevroil partners are Chevron - 50 percent, KMG - 20 percent, ExxonMobil - 25 percent and LukArko - 5 percent.

Karachaganak field is one of the world's largest fields. Its oil reserves amount to 1.2 billion tons, natural gas - 1.35 trillion cubic meters. About 49 percent of Kazakhstan's gas production and 18 percent of oil production are extracted on this field. BG Group has 29.25 percent in the project, Eni - 29.25 percent, Chevron -18 percent, Lukoil -13.5 percent and Kazakhstan -10 percent.
WKT
December 14 2012, 10:39