By Zeena Urynbassarova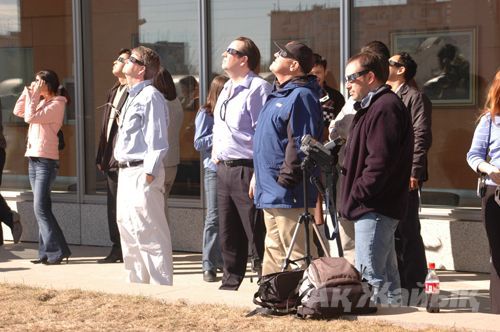 The first solar eclipse of the year hits on March 20, says L Shestakova, the leading scientist of the RoK Fesenkov's Institute of Astrophysics.
Atyrau umbraphiles (eclipse fans) will be able to observe the solar eclipse from around 4:08 pm and will reach its peak at 4:57 pm when the Moon will cover only one third of the Sun (40%).
Safety is important during the observation of a solar eclipse and one needs an old film for protection of eyes.
This year we expect a total of 4 eclipses. Two of them will be solar and the other two lunar.
Why is this solar eclipse so special? According to the scientists, the last solar eclipse on an equinox occurred on March 20, 1662. The next one will take place in 2034. So it is a very rare event.
Happy solar eclipse observation to all umbraphiles!
Umbraphile - One who loves eclipses, often travelling to see them.
March 20 2015, 09:30