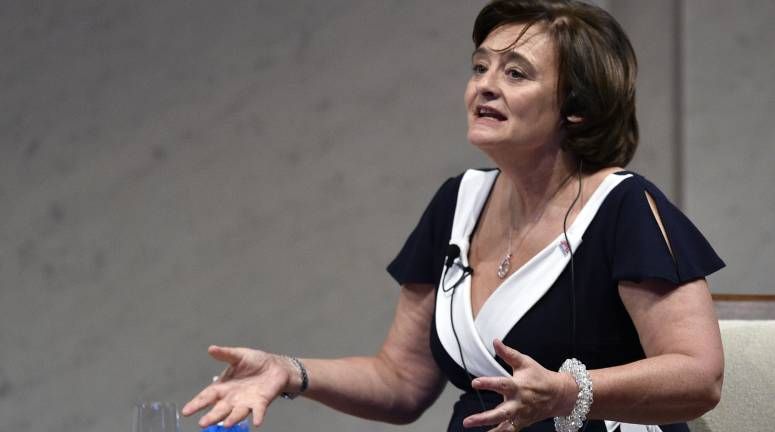 Cherie Blair, wife of former British Prime Minister Tony Blair, gestures as she paticipates to a dialogue for the World Assembly for Women (WAW! Tokyo 2014.Albania and Kazakhstan, it seems, can't get enough of the Blairs. The former British Prime Minister, Tony Blair, is an advisor to the prime ministers of both countries. His wife's law firm Omnia Strategy was awarded lucrative contracts in both countries.
While it is not known how much Albania is paying Cherie Blair for her firm's services, her work in Kazakhstan was worth hundreds of thousands of pounds. She charged the Kazakh government £975 an hour for her fees – a discounted rate. She usually charges £1,150 an hour, neurope.eu reports.
In Albania, Cherie Blair has been called upon to represent Albania in the country's £250m dispute filed against the country by an American company commissioned to construct and operate special scanners along Albania's border. The case is currently before the International Chamber of Commerce in Vienna.
Genc Pollo, a senior MP with the opposition Democratic Party and a former minister, was quoted as saying by The Telegraph: "Tony Blair… is a respected figure in Albania especially for his role in the Kosovo intervention. But the current dealings of the [Albanian Prime Minister Edi] Rama government… are concerning because of a lack of transparency and the not very obvious benefit to Albania."
Florjon Mima, another Democratic party MP and former minister, said: "I am deeply surprised that the firm of the spouse of the former British Prime Minister Blair has been awarded a contract to render legal services representing the Albanian government, while… her husband is publicly recognised as an adviser to the Albanian Government and a personal friend to the Albanian Prime Minister."
Julia Yun Hulme, Omnia's managing director, refused to say what the latest legal contract was worth to the company, reports The Telegraph. She also declined to say if Omnia had won contracts in any other countries advised by Mr Blair.
Hulme said in a statement: "Omnia Strategy LLP is a law firm regulated by the Solicitors Regulation Authority. Mr Blair is not involved with Omnia Strategy LLP."
March 10 2015, 11:13