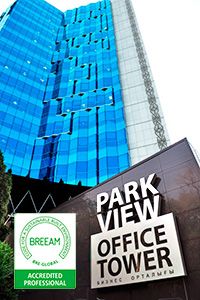 Park View Office Tower owned by Global Development received a "very good" BREEAM certificate and becomes the first 'green' office building in Central Asia. The flagship, Grade A business center with a result of 57 pct for Building Management in the certification process carried out by Drees & Sommer, ranking it with a 4-star (very good) level. Park View has been graded for many elements of the building's life-cycle, including: energy efficiency, water consumption, materials used, health and well-being and management.
The offices based in the Park View Office Tower are sought-after by Almaty based firms. Park View Office Tower comprises of over 16, 500 m² of an A-class office space and provides facilities which a modern-day workplace might need. Business Centre Park View Office Tower, which lies in the heart of Almaty historical city center in Kazakhstan, consisting of 16 floors with 1,052 m² of office leasable area on each level, a major project for Global Development LLP. Visitors find themselves spoiled for choice with 80-seater canteen with a food court, restaurant, cafeteria, 80-seater hi-tech meeting and conference room and free Wi-Fi zone.
"At Global Development we understand that the office is more than just a workplace for our clients' employees, which may use the premises 24 hours a day, 7 days a week. We do our best to guarantee our tenants the maximum comfort in a friendly and healthy environment; modern interiors, intelligent solutions and effective management of space make our offer attractive. Park View Office Tower is an excellent example of what can be achieved through responsible and sustainable approach to the Building Management process. Obtaining the BREEAM In-Use certificate "very good" level is a great experience for our team and has confirmed the top class status of our building", says Lukasz Skowronski, Commercial Director at Global Development.
Source: europe-re.com
March 6 2015, 16:00