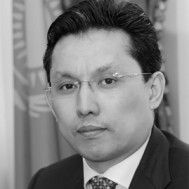 RoK Finance Minister Bakhyt Sultanov Kazakhstan needs about 5.5 billion tenge ($30,550,000) to hold early presidential elections on April 26, said Minister of Finance of Kazakhstan Bakhyt Sultanov on Thursday.
The question of allocation of funds from the reserve fund of the government is under consideration, said Sultanov, akipress.org reports.
Early presidential elections are due to be held on April 26, 2015.
Previous presidential elections also were held earlier than supposed to, on 3 April 2011. Back then, current president Nursultan Nazarbayev won 95.55% of the vote.
According to the Constitution, the president is elected in Kazakhstan by the citizens in direct vote.
A candidate for presidency participating in the election campaign must be a citizen of Kazakhstan by birth, at least 40 years old, fluent in state language, and must live in the country last 15 years of his life.
So far, Communist People's Party of Kazakhstan has put forward Mr Turgun Syzdykov's candidacy to the presidency. Syzdykov is reportedly applied the Central Election Commission for participation in the elections.
In addition, earlier in march, 5 self-nominated candidates announced their desire to join the election campaign.
March 5 2015, 15:46