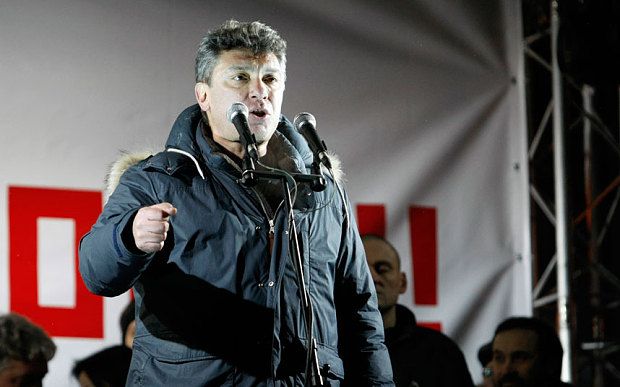 Photo: BloombergBoris Nemtsov, former deputy prime minister, gunned down near Kremlin before taking part in march against Russian war in Ukraine, UK's Telegraph reports.
Boris Nemtsov, a leading opponent of Vladimir Putin, has been murdered in Moscow.
The leading liberal politician who organised street demonstrations against the authorities was shot four times by unidentified attackers yards from the Kremlin walls.
Mr Nemtsov's murder comes hours after he gave an interview publicising an anti-war rally over the weekend.
The assassins struck while Mr Nemtsov was walking with a 23-year old Ukrainian woman in the heart of the Russian capital. According to the Meduza website several people leapt out of the car and shot him.
His uncovered body lay for about an hour at the spot where he was killed — less than 200 metres from the Kremlin walls on Moscow's Bolshoi Moskvoretsky Bridge — amid a light snowstorm.
The body was then packed up in a black plastic body bag and driven away in an ambulance at about 1:40 am.
Six shots were fired by the killer and four of them hit Nemtsov, a spokeswoman for Russia's Investigative Committee, Yulia Ivanova, said at the scene. The murder had all the hallmarks of "an assassination," she said.
Mr Nemtsov, 55, had emerged as a critic of the President Putin's policy on Ukraine and supporters.
Ilya Yashin, an opposition leader and friend of Nemtsov's, said he was on the point of publishing proof of Russia's direct involvement in the separatist rebellion.
"My last meeting with him was the day before yesterday… he was preparing to write a report called 'Putin and War' and he said he had information proving the participation of the Russian military and Russian soldiers in the Ukrainian conflict," he said.
"Nemtsov was a bright opposition leader, one of the key leaders of the opposition, and the objects of his criticism were authority figures including President Vladimir Putin," Yashin added.
"I have no doubts that this murder has a political character."
One witness, Mikhail Kirtsev, said Nemtsov had bullet wounds in his back and one by his lower rib on the left side of his body. He told the Telegraph: "Maybe he had time to turn around."
Only two weeks ago Mr Nemtsov said he feared for his life and that President Putin might order his killing.
Speaking to Russia's Sobesednik news website, he said: "I'm afraid Putin will kill me.
"I believe that he was the one who unleashed the war in the Ukraine. I couldn't dislike him more."
Mr Nemtsov was a leading economic reformer and served as deputy prime minister under Boris Yeltsin in the mid 1990s. At one point he was touted as a potential successor to Yeltsin.
He was the co-founder of the anti-Kremlin People's Freedom Party (PARNAS) and of the Solidarnost opposition movement.
He was an organiser of street demonstrations against President Putin and was sentenced to 15 days in jail for participating in an unauthorised rally in 2010.
After his arrest Mr Netsov continued to be a thorn in the side of the Kremlin, calling for the 2011 elections to be rerun.
In a blog he wrote at the time, Mr Nemtsov, attacked people he described as "vote thieves" for their role in the election.
He attacked the "extreme incompetence and brutality of brutality" of the regime in the Kremlin.
Mr Nemtsov is the latest high profile assassination in Moscow over the past decade in a country where the line between criminality and some officials in the country appears to be blurred.
Others to have come to a brutal end include two journalists, Anna Politkovskaya, who was killed in a lift in 2006 and Paul Klebnikov, who was murdered two years earlier.
However Putin's spokesman, Dmitry Peskov, said the president would take the investigation into Nemtsov's death under "personal control", and that he believed the killing to be a provocation.
"Putin noted that this cruel killing has all the signs of a hit, and is a pure provocation," he said. He said Putin offered condolences to Nemtsov's family.
But Mikhail Kasyanov, another opposition leader, had few doubts that the murder was for political reasons.
"This is payback for the fact that Boris consistently for many, many years fought for Russia to be a free democratic country."
Meanwhile Petro Poroshenko, the Ukrainian president, paid tribute to Mr Nemtsov on Twitter.
"Shock. Borys was murdered. It is hard to believe. I have no doubt that murderers will be brought to justice. Sooner or later.
"Rest in peace."
In the US, President Obama described Nemtsov as a "tireless advocate for his country" and called for a "prompt, impartial, and transparent investigation" into his killing.
The President added: "I admired Nemtsov's courageous dedication to the struggle against corruption in Russia and appreciated his willingness to share his candid views with me when we met in Moscow in 2009. We offer our sincere condolences to Boris Efimovich's family, and to the Russian people, who have lost one of the most dedicated and eloquent defenders of their rights."
Yelena Alekseyeva, a spokeswoman for the interior ministry, said the Ukrainian woman who was accompanying Mr Yeltsov was being questioned.
Source: Telegraph
February 28 2015, 13:27