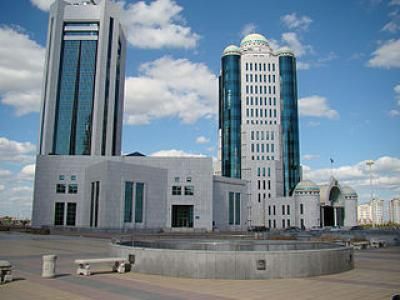 Measure is approved 'for the protection of children from harmful information'. The Senate of Kazakhstan has passed a bill banning 'propaganda of a non-traditional sexual orientation.'
The upper house of the Kazakh parliament 19 February approved the measure 'for the protection of children from information harmful to their health and development.'
Aldan Smayil, a member of the Majilis (the lower chamber of the Kazakh parliament), proposed prohibiting 'gay propaganda' in August 2013.
'The draft provides a ban on information products depicting cruelty and violence, provoking children to life-threatening acts, including suicide, containing scenes of pornographic, sexual and erotic nature, promoting non-traditional sexual orientation,' he told the Senate last week, gaystarnews.com reports.
The clause banning 'gay propaganda' was a late addition and is similar in language to laws enacted in Russia and under consideration in Kyrgyzstan.
US human rights watchdog Freedom House condemned the law.
'This law will take a bad freedom of expression situation in Kazakhstan and make it worse,' said Susan Corke, director of Eurasia programs.
'Despite the government's claim, banning "propaganda of a non-traditional sexual orientation" has nothing to do with the safety of children. It is simply a disguise for discrimination and intolerance that will allow government censors to punish speech they don't like. The bill should be rejected.'
A companion bill to introduce penalties for disseminating 'gay propaganda' to children under 18 was also approved.
Gay sex is not illegal in Kazakhstan but the law met little resistance in the central Asian country.
February 26 2015, 13:01