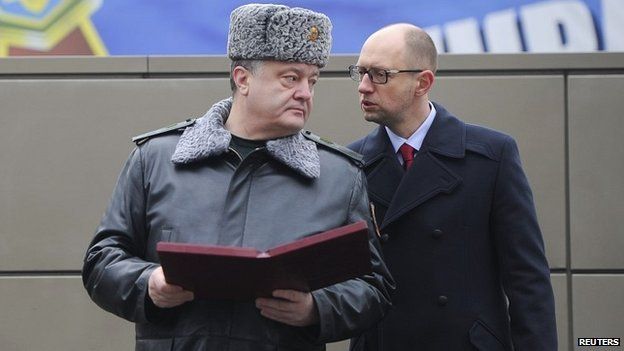 President Poroshenko said despite the agreement there was a "long way to go to peace"Ukraine's president has warned that a deal to end fighting in the east is in "great danger" after heavy fighting ahead of Saturday night's ceasefire.
Petro Poroshenko also accused Russia of "significantly increasing" its offensive despite the peace agreement reached in Minsk on Thursday, bbc.com reports. The US ambassador to Ukraine tweeted a satellite image that he said showed Russian artillery near Debaltseve. Shelling was heard in the rebel-held city of Donetsk early on Saturday.
Fierce battles are said to be continuing around Debaltseve - a strategic government-held town almost encircled by pro-Russian rebel forces - and outside the southern port city of Mariupol.
The BBC's David Stern in Kiev says that as the clock ticks down to the ceasefire, fears are rising that it won't be observed.
Ukraine's military said on Saturday morning that seven service personnel had been killed and 23 wounded over the past 24 hours.
"Ahead of midnight (time of planned ceasefire) rebels are trying to complete tactically important plans to enlarge the territory under their control," spokesman Andriy Lysenko.
More than a dozen civilians were said to have died in shelling in Ukraine's eastern Donetsk and Luhansk regions on Friday.
The Ukrainian military and pro-Russian rebels accuse each other of targeting residential areas.
February 14 2015, 16:47