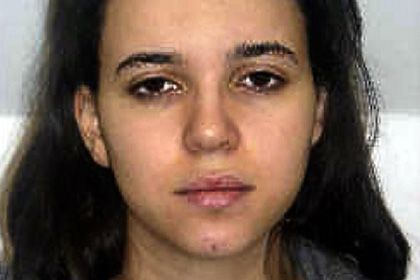 A mug shot of Hayat Boumeddiene, 26, released by French police in the wake of last month's terrorist attacks in Paris (AFP)Hayat Boumeddiene, the widow of Paris kosher store gunman Amédy Coulibaly and France's most-wanted woman, has resurfaced in an interview in a French-language online propaganda magazine run by the Islamic State (IS) militant group.
Wednesday's edition of "Dar al-Islam" ("The home of Islam" in Arabic) marked the first claim by the jihadist group that Boumedienne is in their territory, which spans parts of Syria and Iraq, france24.com reports.
French authorities launched a search for her following the January 7-9 attacks on French satirical weekly Charlie Hebdo and the Hyper Cacher grocery store in Paris that left 20 people dead, including Coulibaly and fellow gunmen Saïd and Chérif Kouachi.
Police released a mug shot of a young woman with long dark hair, describing the 26-year-old as armed and dangerous.
French media later published photos thought to have been taken in 2010 and purporting to be of a fully veiled Boumeddiene posing with a crossbow during a jihadist training session in a remote mountainous region of central France.
Turkish officials said last month that Boumedienne had flown into Turkey from Spain days before the attacks and crossed into Syria on January 8, a day before the kosher store shootings in Paris.
In the "Dar al-Islam" interview, a woman identified as Coulibaly's wife confirms that she entered the "Caliphate", the term IS militants use to describe the territory under their control.
The two-page interview does not give Boumedienne's name, nor does it provide photos or videos of her.
When asked about Coulibaly's reaction to the proclamation of the "Caliphate", the woman is quoted as saying: "His heart was burning from the desire to join his brothers and fight the enemies of Allah."
Coulibaly declared his allegiance to the IS group in a pre-recorded video published online days after the Paris attacks.
Like "Dabiq", the jihadist group's English-language magazine, "Dar al-Islam" is published by an agency known as the "al-Hayat media centre".
In addition to the interview, Wednesday's edition – titled "May Allah curse France" – features a cover photo of the Eiffel Tower and 11 pages of anti-French propaganda as well as praise for the Paris attacks.
French authorities have beefed up security to unprecedented levels in the wake of the January shootings, deploying some 15,000 police and troops to guard media outlets, Jewish schools and other sensitive sites.
Last week, French anti-terrorist prosecutors said they were probing a new video posted on YouTube by IS militants that called for fresh attacks against France and urged French Muslims to quit their country in favour of the "Caliphate".
CNN said sources close to the investigation had identified a veiled woman in the video as Boumeddiene, but there has been no official confirmation of the report.

February 13 2015, 15:40