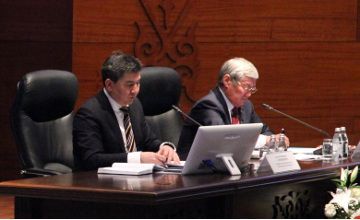 Vice Prime Minister of Kazakhstan Berdybek Saparbayev has warned administration of private universities and colleges they will be closed in case of unsatisfactory performance.
"Speaking of private universities and colleges. Minister Sarinzhipov and I have visited a couple of [universities] in Astana. Shame on you. This is all I can say. What kind of specialists do you train? What education do you offer? I want to warn the administration of these universities: get the things sorted out. Otherwise, the ministry will do it," Mr. Saparbayev warned at the enlarged sitting of the Ministry of Education and Science in Astana on Thursday, azh.kz learnt from infrom.kz.

According to the Vice Prime Minister, if those universities and colleges continue to demonstrate poor results or commit violations, they will be closed.

"The Ministry and the Prosecutor General's Office of Kazakhstan will check whether those universities and colleges meet the requirements, and if they don't', eventually, they will be closed," he added.
February 13 2015, 00:13