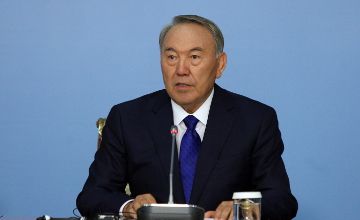 "Kazakhstan feels negative global economic trends but there is no separate crisis in Kazakhstan," said President Nursultan Nazarbayev during today's enlarged meeting of the government in the presidential residence of Akorda.
Two main negative trends in the global economy that affect Kazakhstan, according to Nazarbayev, are falling of a crude oil price almost twice and ruble devaluation against dollar.
There are 43 million unemployed people in the countries of the Organization for Economic Cooperation and Development and over 850 million people are suffering from hunger around the world, he said. "Unemployment rate in Europe is 11.5%. There is no way for us, as the part of the world, to avoid impact of the global crisis when such things happen around," he noted.
According to Nazarbayev, Kazakhstan, despite the economic crisis and political tensions in the world, managed to end 2014 with positive results.
"A number of anti-crisis measures was taken last year. We enhanced partnership with international financial institutions last year and felt full support from them as we made deals for over $8 billion," stated Nazarbayev.
February 12 2015, 15:08