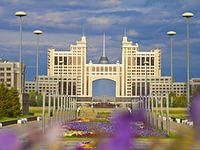 Kazakhstan will optimize taxes for mining enterprises until the end of the first quarter of 2015, the Kazakh energy minister, Vladimir Shkolnik, said Feb. 11.
He was addressing an expanded government meeting held with participation of the Kazakh President Nursultan Nazarbayev, trend.az reports.
"Due to the fall in world oil prices all the mining companies in the country took measures in 2015 to reduce costs." said Shkolnik. "However, the financial condition of main mining enterprises is being analyzed together with the government's economic bloc."
"Measures will be taken until late March to optimize taxation and reducing the current investment costs to maintain the level of production," he added.
The minister said the Kazakh oil exports stood at 62 million metric tons, of which some 35 million metric tons were sent for export via the Caspian Pipeline Consortium's (CPC) system.
Earlier, it was reported that the customs duty for the export of oil stands at $80 per metric ton, and the average cost of oil production in Kazakhstan amounts to $50 per barrel.
Minister Shkolnik said a work is underway to expand the CPC's capacity up to 67 million metric tons. The deadline for these works is 2016.
"Some 15 million metric tons of oil was processed in 2014 – this is four percent higher than in 2013," said Shkolnik.
The minister further noted that currently the issue of constructing the fourth oil refinery in Kazakhstan is being studied.
Earlier, President Nazarbayev raised the issue of construction of the fourth oil refinery.
Currently, three major oil refineries operate in Kazakhstan, namely, the refineries of Atyrau, Pavlodar and Shymkent.
February 11 2015, 17:07