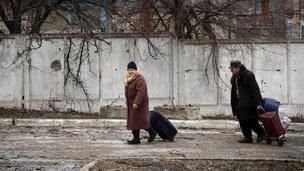 Ukraine's crisis has been caused by the West, Russian President Vladimir Putin says, as he works on Franco-German proposals to end fighting between the government and pro-Russia rebels.
Western countries had broken pledges not to expand Nato and forced countries to choose between them and Russia, Mr Putin told an Egyptian newspaper.
The comments come amid new hopes of a peace deal this Wednesday.
Russia denies accusations of sending troops and supplying the rebels.
The fighting in eastern Ukraine has claimed more than 5,300 lives and driven 1.5 million people from their homes.
German Chancellor Angela Merkel is due to brief US President Barack Obama in Washington later on Monday on the peace plan Germany and France have tried to reach with Ukraine and Russia.
The Washington talks come as the US considers sending weapons to the Ukrainian government.
Ukraine's war: The human cost
5,358 people killed and 12,235 wounded in eastern Ukraine
Fatalities include 298 people on board flight MH17 shot down on 17 July
224 civilians killed in three-week period leading up to 1 February
5.2 million people estimated to be living in conflict areas
921,640 internally displaced people within Ukraine, including 136,216 children
600,000 fled to neighbouring countries of whom more than 400,000 have gone to Russia
February 9 2015, 13:49