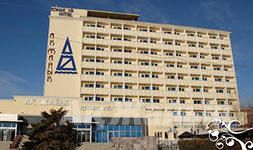 As WKT reported earlier, on November 17 at 4.00am a beaten and robbed British citizen, the employee of Agip subcontracting company, was found unconscious next to Ak Zhaik Hotel, in the city center.
Police officers detained two (25 and 26) Atyrau citizens on suspicion of committing this crime who were hanging out in the night of the incident in the cafe, the victim was, reported Gulnazira MUKHTAROVA, the head of the Atyrau Oblast Internal Affairs Department's press service.
One of the detainees claimed the British started bullying him and in response he hit him once, but he didn't rob him. His friend refused to give any evidence.
According to the victim's spouse, his mobile phone got missing from his pocket. However, the hospital nurse told that there were 96,000KZT in the pocket of his jacket when he was being taken to hospital. In light of this fact the version of robbery becomes unsolid…
After he was discharged from the hospital, the British citizen left for home. And the two suspects were released under the written pledge not to leave the city.
By Murat SULTANGALIYEV
December 4 2012, 16:41