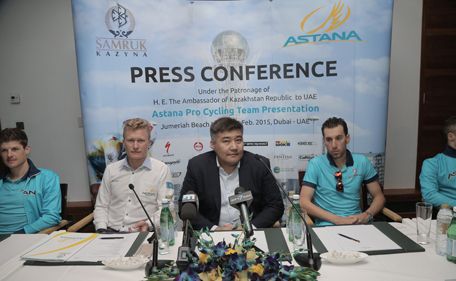 Ambassador of KZ Khairat Lama (centre), V. Vinokurov (left), V. Nibalil (right) at a press conference in Dubai. The new-look Astana Pro Cycling Team from Kazakhstan are determined to make their presence felt at the Dubai Tour.

The second edition of the race which begins on Wednesday February 4 will see a total of 16 teams and 127 riders compete, emirates.com reports.

Organised by Dubai Sports Council, together with RCS Sport and Events JLT, the Dubai Tour 2015 race covers a total of 663kms, divided into four stages.

The Astana Pro Cycling Team consists of Vincenzo Nibali, Diego Rosa, Luis Leon Sanchez, Michele Scarponi, Rein Taaramäe, Paolo Tiralongo, Ruslan Tleubayev, Alessandro Vanotti, Lieuwe Westra, Andrey Zeits, Valerio Agnoli, Fabio Aru, Maxat Ayazbayev, Lars Boom, Borut Bozic, Dario Cataldo, Laurens De Vreese, Alexandr Dyachenko, Daniil Fominykh and Jakob Fuglsang.

"Astana Pro Cycling Team is upbeat about racing in Dubai Tour. Dubai is a dream destination in every sector and every sport especially cycling is growing in popularity. We are confident our team will have a great time and will put in all efforts to make their country proud," said His Excellency Khairat Lama, Ambassador of Kazakhstan, at a press conference in Dubai on Sunday.

"I would also take this opportunity to thank Dubai government, Dubai Sports Council and RCS Sport for this wonderful event and helping Astana Pro Cycling Team," he said.

General Manager of the Astana Pro Cycling Team Alexander Vinokourov while expressing confidence over his team's performance at Dubai Tour, said: "The team has trained hard before arriving to this big event. The team is confident of delivering the best and is aware of the tough grind they will face competing against some of the best riders in the world. We have set ourselves big goals for the season 2015 and we are keen on achieving them starting from Dubai Tour."

"We are happy to be in Dubai to be participating in one of the prestigious races, the Dubai Tour. The team is looking forward to do well in Dubai Tour and make Kazakhstan proud. Dubai Tour will be an important race for Astana Team competing against some of the best teams in the world," Prime Minister of Kazakhstan, Karim Massimov stated in a press release.
February 3 2015, 10:32