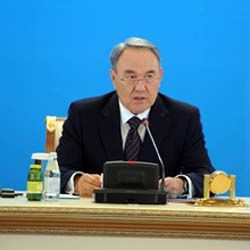 "Some district akims have become provincial princelets and we need to get rid of such," said Kazakh President Nursultan Nazarbayev.

"Certain district akims have been sitting in their chairs for 10 years. It's ok as far as the work is being done and there is no stagnation. But there are ones who have become real princelets showing no obvious result of work" he said at the meeting with akims of all levels on Wednesday.
"We should decisively get rid of them," he said.
"Moreover, they should understand on their own - they need to either change the job or leave" Nazarbayev emphasized.
President also announced that Kazakhstan is introducing selectivity of village akims through maslikhats (provincial and rural parliaments):
"To enhance the role of local representative bodies we introduce selectivity of akims of lower level villages through maslikhats."
Kazakh leader signed Local Self-Administation Development Concept.

WKT citing Novosti-Kazakhstan News Agency
November 28 2012, 12:32