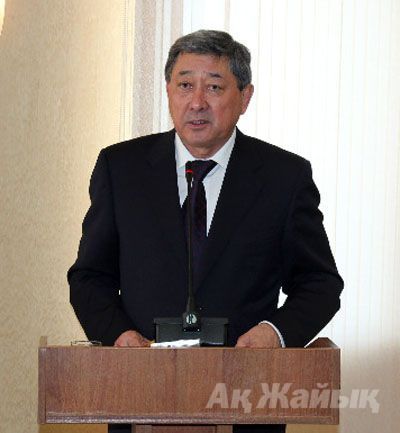 At the meeting of core group, Atyrau Oblast governor Baktykozha IZMUKHAMBETOV admitted his 100 days in new office were not easy.
He began his speech with the issue of workforce release from Kashagan project.
Year to date, over 3,300 people lost jobs at onshore facilities. Another 2,900 will be reduced by the end of December. Over 5,500 people will be released from the offshore complex early next year.
According to Izmukhambetov, this subject, as well as environmental aspects of the project were discussed at his meeting with ENI President Guiseppe Recci and General Manager Paolo Scaroni.
The same issues were highlighted during the earlier visit of Prime-Minister Serik Akhmetov.
ENI representatives promised the company would hire 4,000 people during implementation of the next phase of North-Caspian project in 2014.
Concerning 'the heritage' from the previous administration of the oblast, Izmukhambetov reported 10 major construction projects are standing idle. For third month, they are being audited by financial bodies.
Preliminary, contracting companies that were given these 10 projects have received T10bn in total for unfulfilled work scope:
"On papers, the work is said to be completed, whereas at some sites even the preparation has not started. Over T770mln has been transferred for undone cinema in Atyrau. In similar way, more than T6bn was 'eaten' at the construction of waste water treatment plant on the left bank of Ural in Atyrau."

Huge funds were allocated for construction of three multi-apartment blocks in Atyrau within a state housing program, yet not a single block has been raised.
Materials of the case have been sent to court.

Another problem is marauders:
- They steal construction materials on their KAMAZ trucks. Some of them get caught. Not only the facilities are still undone, they get looted by local people as well. That's disgrace!
By Laura SULEIMENOVA


November 27 2012, 09:34