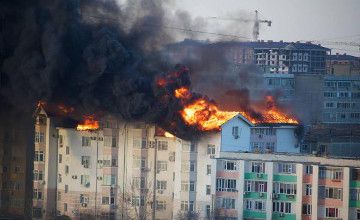 A residential house (block 21 in microregion 13) caught fire in Aktau on Monday, December 8, according to azh.kz.
Seventy firefighters summoned to the scene spent several hours putting out the massive fire as it was fanned by strong wind.
It engulfed the roof and the top floor of the residential complex.
The blaze covered an area of 800 square meters, 19 apartments were severely damaged and 6 apartments burnt down completely.
December 9 2014, 10:19