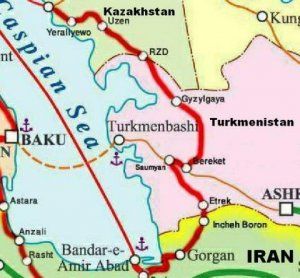 Kazakh President Nursultan Nazarbayev, Iran's Hassan Rouhani, and Turkmenistan's Gurbanguly Berdymukhamedov have launched today the new railroad Uzen - Bereket - Gorgan, the press service of the Kazakh leader said.
This railroad line will allow to make direct deliveries of goods between the two countries via the shortest path which will shorten the time as well.
Intergovernmental agreement on construction of the railroad was signed in 2007. The construction started in 2009, akipress.org reports.
"Due to the construction of the railway towards the Persian Gulf Kazakhstan's trade turnover has increased by 38% this year," Nazarbayev said on Tuesday at a press conference with Berdymukhamedov following their meeting in Ashgabat.
Rail transit can serve the expansion of economic relations between Russia and Iran and the implementation of the Russian-Iranian trade treaty on supplies of Iranian oil in exchange for Russian grain, equipment and other industrial goods.
The new trade route will strengthen trade and economic relations, as well as regional and geopolitical positions of Turkmenistan, Iran and Kazakhstan.
December 3 2014, 16:10