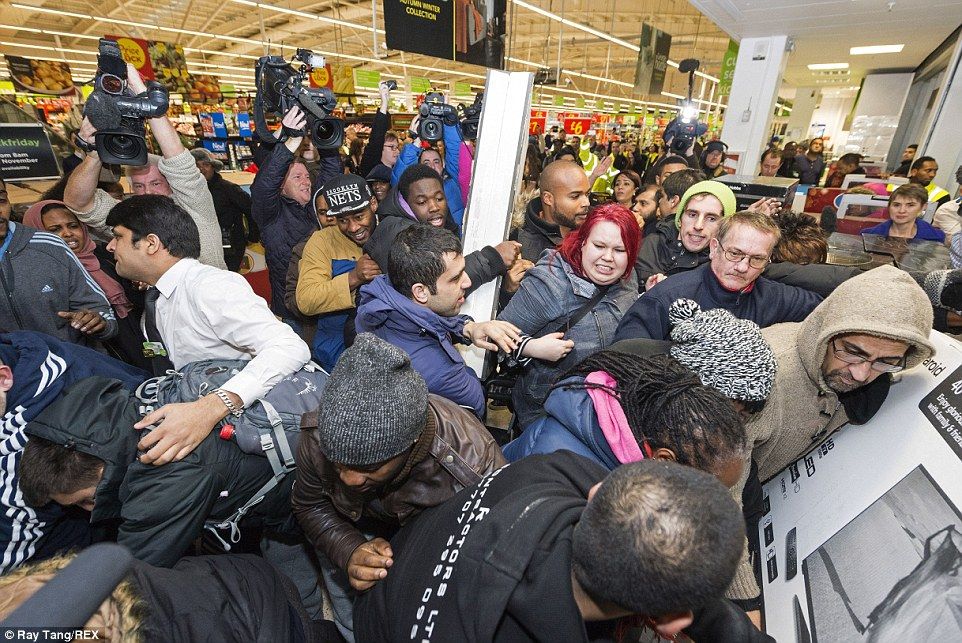 Shoppers scramble to get their hands on televisions, cooking appliances and other goods at Asda in Wembley, north London, this morning Scenes of violence and chaos broke out across the UK as millions of customers flooded shops and supermarkets to try and get their hands on cut-price goods during the Black Friday sales.
Police were called to dozens of supermarkets as the midnight sales descended into chaos, with shoppers resorting to wrestling one another on the shop floor as they competed over discounted items, dailymail.co.uk reports.
One Tesco store in Manchester had to be closed just 36 minutes after opening due to fighting, while another customer was arrested on suspicion of assault in the Salford branch after allegedly telling a staff member that he would 'smash their face in'.
The chaos even led to one woman being injured by a falling TV, while there were reports of a fight breaking out when a teenage girl starting throwing advent calendars around the store. There were reports of staff being left in tears and with black eyes.
A senior police officer has now hit out at supermarkets for failing to have adequate security in the run-up to the Black Friday sales.
Chief Constable of Greater Manchester Police Sir Peter Fahy said the mayhem which broke out overnight were 'totally predictable' but that stores did not have enough staff on duty in the run-up to the manic sales.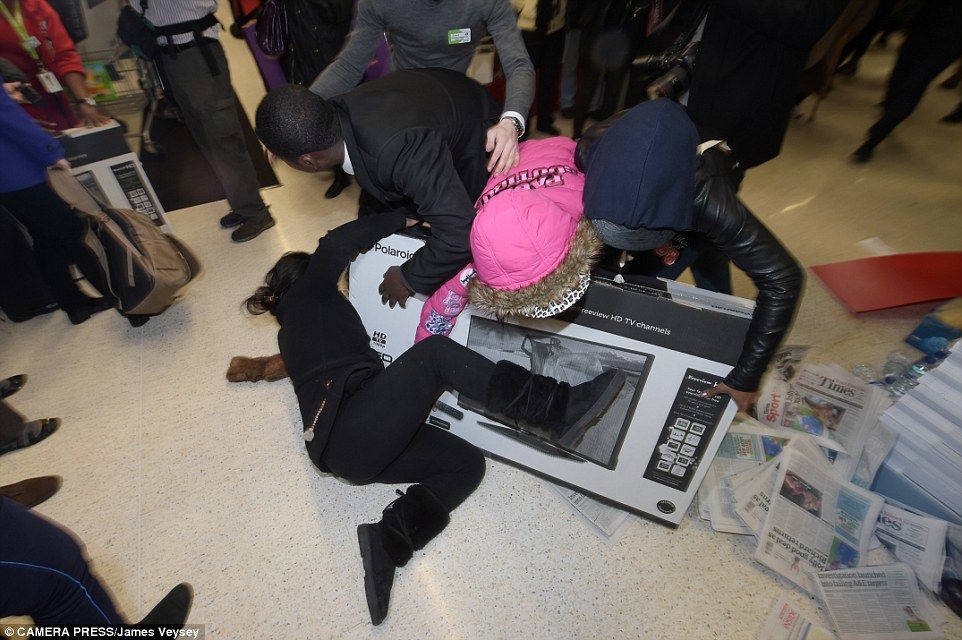 The shoppers were seen pushing and fighting one another on the shop floor as they tried to get their hands on the reduced itemHe said: 'The events of last night were totally predictable and I am disappointed that stores did not have sufficient security staff on duty.
'This created situations where we had to deal with crushing, disorder and disputes between customers. It does not help that this was in the early hours when police resources are already stretched.'
In Tesco stores up and down the country, desperate shoppers were seen scrapping as they tried to get what appeared to be one of Tesco's best-selling market items - a Blaupunkt HD TV, which had just £60 off the original price.
At an Asda store in Wembley, shocking pictures emerged this morning showing a woman clinging to a Polaroid TV which had been reduced by just £80 to £139, as a shop worker attempted to prise her from the box.
Danial Jabbar, 15, and his older cousin turned up at 6.30am and saw a woman in her twenties involved in the 'tug of war' with two teenage boys who also wanted to buy the same discounted TV set.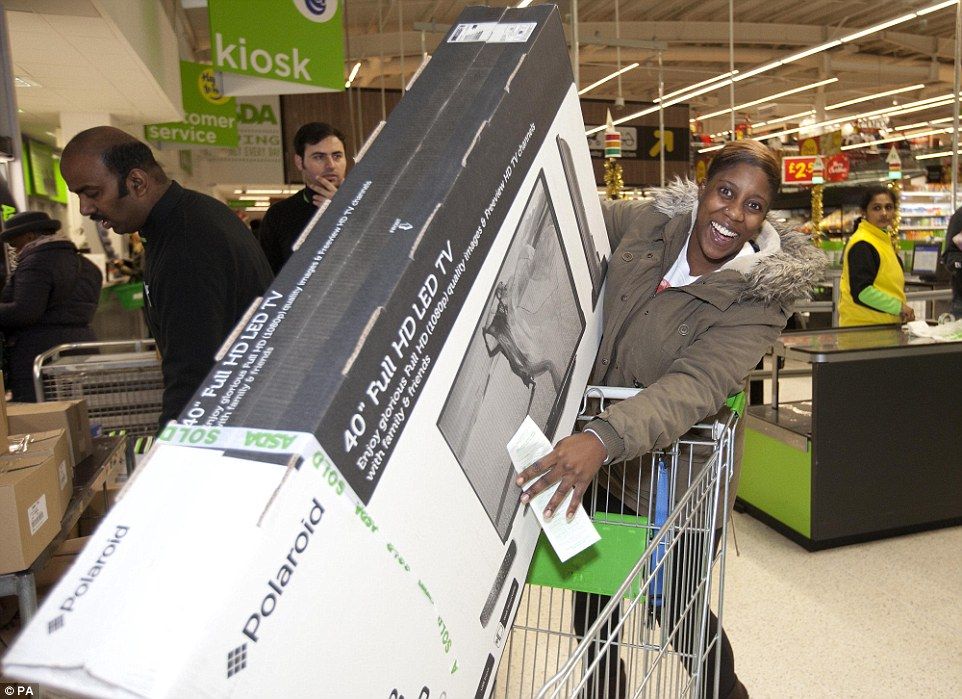 Cherrelle Welch in north London with her 40in HD Polaroid television being sold by the supermarket for just £139 - £90 less than usualDanial said: 'It was really shocking seeing how seriously some people took it. We saw a proper fight break out with shouting and stuff.'
He added: 'We already knew where the TVs were, we'd checked before so we knew where we were going. When we got into the store at about eight we sprinted to the bit where they have the tvs.
'There were about 20-25 boxes and loads of people were jostling round trying to get them. Then as we each took one, a fight broke out. I had to stand back and someone called the security.
November 28 2014, 17:10