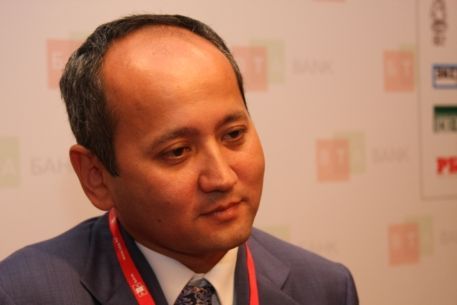 The High Court on Friday entered judgment against a Kazakh businessman relating to two civil lawsuits worth $2bn.
Mr Justice Teare issued judgment in default against Mukhtar Ablyazov following an application brought against him in the English courts by Kazakhstan's BTA Bank.
BTA has been pursuing Mr Ablyazov, who served as its chairman, to recover billions of dollars it alleges were misappropriated from the bank under his leadership.
The lawsuits against Mr Ablyazov and others are among the biggest fraud claims ever brought in the High Court.
Mr Ablyazov was not in court on Friday and has not been seen in public since February, when he was sentenced to 22 months in jail for contempt of court.
He never served the term because he fled England on a Europe-bound coach hours before the ruling was handed down.
His whereabouts are still unknown, even to his solicitors Addleshaw Goddard. The latest ruling from the High Court relates to two of the eight claims that Mr Ablyazov was debarred from defending unless he disclosed his assets or handed himself in following a recent Court of Appeal decision.
It now means BTA Bank can take steps to begin taking control of his assets, thought to include an English property portfolio worth more than $70m.
Mr Ablyazov is still hoping to overturn the Court of Appeal decision by applying to the Supreme Court, the highest court in the land.
However, the Supreme Court must first decide whether it will hear any appeal from him.
In the Court of Appeal ruling earlier this month, Lord Justice Maurice Kay said: "It is difficult to imagine a party to commercial litigation who has acted with more cynicism, opportunism and deviousness towards court orders than Mr Ablyazov."
The tycoon was granted asylum in the UK after fleeing Kazakhstan in 2009.
He has previously denied the fraud allegations, claiming they were politically motivated and an attempt by Nursultan Nazarbayev, Kazakhstan's president, to eliminate him as a political opponent.
Mr Ablyazov graduated in theoretical physics and went into business after the break-up of the Soviet Union. He became minister of energy, industry and trade in Kazakhstan and became an opponent of the president.
Soon after Mr Ablyazov left BTA in 2009, the Kazakh state took a 75.1 per cent stake in the bank amid serious concerns about its future.
The bank later underwent an insolvency process as the deficit of its assets versus liabilities reached $16bn.
As a result, a number of western banks, including Royal Bank of Scotland, Barclays and HSBC, had to write off billions in debt.
November 24 2012, 12:29