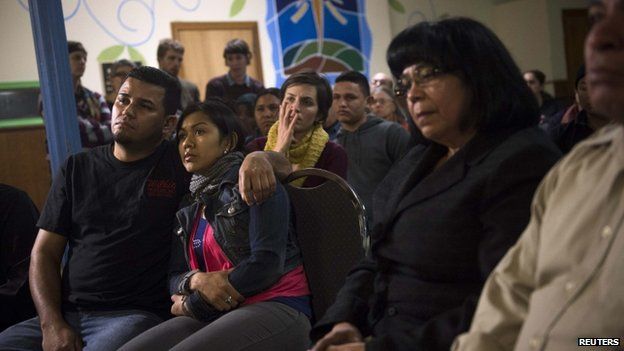 Undocumented immigrants and supporters watch Obama speak on immigration in PhiladelphiaNearly five million people living illegally in the US can escape deportation under sweeping changes to the immigration system.
"Come out of the shadows and get right with the law," urged President Barack Obama in a televised address.
Republicans say the action, without Congress, is beyond his authority and relations will now be poisoned, bbc reports.
There are about 11m illegal immigrants in the US and this year children coming across the border prompted a crisis.
Under the plan, undocumented parents of children who are US citizens or legal residents will be able to apply for work permits lasting three years.
Only parents who have lived in the US for five years will qualify - about 3.7m people are estimated to fit this criteria.
"What I'm describing is accountability - a commonsense, middle ground approach," he said.
Although the plan will allow millions to work, it won't offer a path to citizenship or entitle them to the same benefits as Americans, he said.
"If you're a criminal, you'll be deported. If you plan to enter the US illegally, your chances of getting caught and sent back just went up."
The plan will also expand a 2012 programme that defers deportation for young people brought to the country illegally as children.
Also in the speech:
shifting additional resources to the Mexico border to increase arrests of illegal crossers
streamlining the immigration court process to ease the backlog
making national security threats and serious criminals the highest priorities for deportation
a plea to Republicans to pass a broader immigration bill that is a "comprehensive fix"
The plan reflects "the guidance [Mr Obama] has received from the Secretary of Homeland Security and the Attorney General about everything he could do under the existing law", a senior administration official said on Thursday.
"It's entirely consistent with the way previous presidents have exercised their executive authority."
November 21 2014, 09:55